14 Different Ways to Use Video to Drive Growth on Instagram in 2022
'Video now accounts for almost half of all time spent on Facebook and on Instagram, Reels is the largest contributor to engagement growth,' says CEO Mark Zuckerberg.
We've entered a video-first world. Social platforms are prioritizing video content over other forms of content. Brands and businesses are making videos a vital part of their marketing strategy. 
And why shouldn't they?
Afterall, marketers who use video grow revenue 49% faster than non-video users.
Users are now consuming videos more than ever.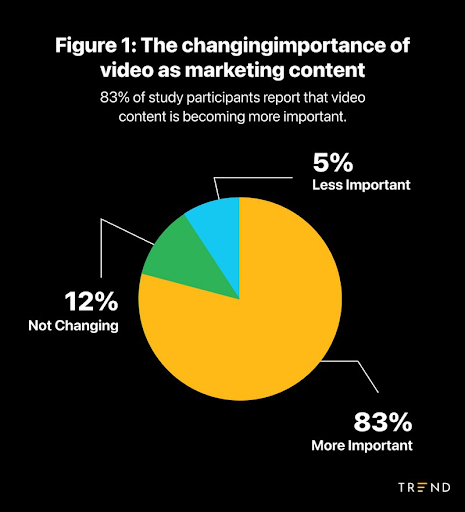 According to statistics,
That's not it.
According to Hubspot, '54% of consumers want to see more video content from a brand or business they support.'
So it's no longer a question of whether brands should invest in videos or not – it's more along the lines of how soon can they start creating videos for their audience!
Why should brands create videos on Instagram
Social media platforms are ripe for videos. 
Video posts on social media get 48% more views and 73% of people want to see "entertaining" videos on social media.
While YouTube is a favorite amongst users for watching video, Facebook and Instagram aren't far behind. Instagram in particular has made it super easy for users to consume bite-sized video content and Instagram users are loving it.
As Instagram said it themselves, it's "no longer a photo-sharing app." 
Instagram has seen an 80% increase in users spending time watching video on the platform since June 2017.
For brands this translates into better reach and engagement on their video posts. According to a recent study, video posts on Instagram receive twice as much engagement as compared to other types of posts.
And research shows social media videos get 12X more shares than any other type of content.
Apart from higher engagement and better reach, there are several other reasons why brands should start investing in video content ASAP on Instagram.
On Instagram, brands aren't restricted to creating a certain type of video. 
All different kinds of videos are encouraged – from entertaining videos and informative DIY tutorials to shorter GIFs. Instagram is super flexible where creativity and experimentation is concerned. 
Embed: https://www.instagram.com/p/iWsUy2sY0H/
Video is particularly great for increasing brand awareness. 
A static post can only give out a limited amount of information about your brand  – a video, on the other hand, can convey a lot in a short amount of time. 
Embed: https://www.instagram.com/tv/CXqdQGSASi2/
Videos can be reused in a plethora of ways on Instagram. 
A DIY tutorial video can be turned into a teaser and posted on Stories. A still from a video can be turned into a viral meme. You can conduct a Live session on Stories and then post it on your feed.. Longer videos posted on other social platforms like YouTube can easily be shortened and used in multiple ways on Instagram and Facebook. Several shorter videos can be merged together to create a longer video. The possibilities are endless where videos are concerned. 
Gary Vaynerchuck is a big believer in repurposing video content for different social platforms. 
Embed: https://www.instagram.com/tv/CX1qMILAlgD/
If you're looking to educate your audience, videos work great.  
After all, videos that teach how to do things are among the most viewed categories on YouTube. From DIY tutorials to product demos and explainer videos, there's a lot of different types of educational videos you can create for your audience on Instagram. 
EmbedL https://www.instagram.com/p/BEENUaVgYX9/
Different types of videos to create on Instagram
From reels to an hour long videos, Instagram offers a lot of options and flexibility for video content creators. With dwindling attention spans and content saturation, switching up between different video content types is essential on social platforms like Instagram. 
So what are some of the different video options available to brands on Instagram and how are different businesses in various industries using these videos to engage their audience?
Live videos
Live videos are all the rage in the online world. Businesses are using it in a plethora of different ways. 
According to research, real-time marketing increases conversion rates by 26%!
Snce Instagram Live is not prerecorded, happens in real time and allows users to engage with the brand in real time, it's one of the best ways to connect with the audience. 
And your audience wants you to invest more time and energy in coming live on social media, too. 
Research shows that 82% of people want to see brands go live as opposed to simply posting another feed post.
However, before coming Live, brands need to have a goal and a topic in mind. It's always a great idea to switch different Live video formats and experiment with new things. Some of the ways brands can use Live videos include,
Whether you're in a boring industry like financial services or engineering, or in a fun, happening industry like Arts and Entertainment or Beauty, taking your audience behind the scenes is a great way of building rapport with them and humanizing your brand. 
You can take them on a behind the scenes office tour, or show them the chaos happening on a marketing campaign or product launch. 
This offers your audience an exclusive look inside your brand and helps create a stronger bond with them.
And you can always share these videos on your Instagram feed too, like Warby Parker does here. 
Embed: https://www.instagram.com/p/CXOrsJ3J393/
Q and A's are another excellent way to connect with your audience and establish your authority in the industry. 
Since Instagram Live is conducted in real time, it allows your audience to pitch in with their questions and get them answered there and then. You can create hype about your Live Q and A session beforehand to ensure maximum people attend.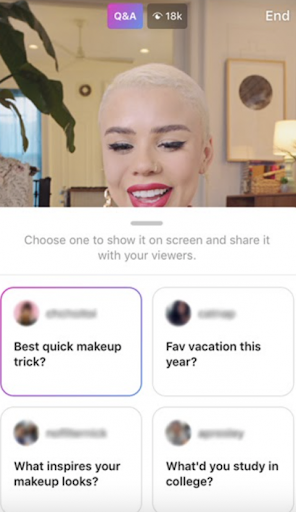 It's a great way to up your engagement levels on Instagram too! 
Pro tip – you can also announce a giveaway at the end of the Live session to boost audience retention. 
To spice up your Q and A sessions, you can conduct them with different experts. 
Collaborate with micro influencers and host Q and A sessions on your Instagram profile. Not only will it encourage more followers to attend the sessions, you might also get interest from the influencer's followers, too. This will help you broaden your reach. 
Industry experts can be both internal and external. Internal industry experts can be your production manager, engineers, etc, and can provide a lot of insight on how your product works. They're also well-equipped to answer your audience's technical questions. 
With the brand's team members
Once in a while, it's a good idea to introduce your team members to your Instgaram family and host a Q and A session with them. You can turn this session into a personal session where you let your followers ask personal questions from your team members. 
This not only helps to humanize your brand but also builds trust with your audience.
If you're launching a product and would like to try something other than your regular product launch video, try launching it via Live video. 
An exclusive Instagram live event where you disclose details of your brand new product and entertain questions from clients and customers alike can reap great results. You can invite your product team to give a demonstration of your product or service and answer any burning questions your audience might have. 
Feed posts
If you're an evid Instagram user, you've probably noticed that brands are now increasingly posting videos on their feed.
Why?
Because video posts do better than picture posts. 
Research shows that sponsored Instagram videos generate 3x more comments than sponsored Instagram photos. This is probably why top publishers are ramping up Instagram video posts by 90-100% each year.
There are a plethora of different videos you can post on your Instagram feed to keep your audience engaged. 
GIFs are fun to watch, have the potential to go viral, and can convey your point or your brand's point of view on a trending topic in a way that grabs your audience's attention. 
Embed: https://www.instagram.com/p/Bn4B-HeHJ-Z/
And the best bit? 
They're super easy to create. You can either search for a relatable GIF on GIPHY or create your own using one of your videos. 
Embed: https://www.instagram.com/p/CJGlW1rBkcj/
Short and sweet product demo videos are one of the best ways to educate and sell to your audience. After all, a Wyzowl study reveals that 69% of consumers prefer to watch a short video to learn more about a brand's products or services.
Embed: https://www.instagram.com/tv/CQMRe5RjDS-/
With so many apps and design tools available online (especially Canva, Animaker, and Vyond), it's easy for brands to create text based videos.
Embed: https://www.instagram.com/p/CIf8cVeg6Tl/
From announcing giveaways to sharing a quote, you can create a text-based video within seconds. Add animations to your post to further amp it up and you're done. 
Ever watched Tasty's one minute food videos? 
When they first launched in 2015, they took over the social media world by storm. This showed brands the power of short and succinct video tutorials on social media. A lot of brands jumped on this trending bandwagon and started creating similar style short tutorial videos on Instagram which garnered millions of views. 
6 years later, these video tutorials are still going strong!
From explaining complex topics to the layman audience, to showing how to create an IKEA bench from scratch, influencers and brands are both investing a lot of time and energy into creating video tutorials that interest their audience. 
User generated content is content created by your audience, influencers, and even your team that mention your brand or product in some way.
They could mention your product or brand by adding your UGC brand hashtag, or by tagging your brand. 
Embed: https://www.instagram.com/tv/CFRu-nqj_iX/
User generated content is usually created after a brand initiates a UGC marketing campaign. It not only provides a lot of exposure for your brand, but also gets you a lot of free content that you can post on your feed (after seeking the creators permission, of course). Since people are now wary of ads, authentic and genuine content coming straight from users is a great way of marketing your products.
Big brands like Huda Beauty and GoPro are big believers in harnessing the power of UGC content. 
Embed: https://www.instagram.com/p/CYHUqm5IRHQ/
While UGC content usually consists of picture (static) posts, you can create a marketing campaign asking your audience to create video posts, too.
There are several ways you can then use those videos. Share them on your feed as is, turn multiple videos clips into a video montage, or even use those clips on your Stories.
While initially branded as TikTok's copy, Instgaram Reels took the Instagram (and social media) world by storm. Instagram Reels are 60 second long videos that you can post on your feed. Just like TikTok, Instagram also provides a huge set of editing tools to take your Reels to the next level. 
Since Instagram is currently trying to encourage creators to invest their time and energies into creating Reels (and move away from TikTok), they're heavily featured in the Explore tab, as well. 
So, what better time to be experimenting with Reels than now? 
There are several ways you can use Reels to market your business. 
Create short tutorials, introduce your team, give a behind the scenes glimpse to your audience, create a time lapse video – basically experiment with it in every way you can to see what gets you the best results. 
Embed: https://www.instagram.com/reel/CFmxjZQnUkH/
Truly, with Instagram Reels the world is your oyster. 
Embed: https://www.instagram.com/reel/CLFVJEWpYNo/
You can also include a Call to Action to further drive action like People's Revolt does here.
Embed: https://www.instagram.com/reel/CFSRJ13nU1K/
Stories
Instagram Stories offers endless opportunities for brands to engage with and sell to their audience. With options to run polls, ask questions, conduct quick multiple questions and answers sessions, use the emoji slider, and add a link, there's so much you can do with Instagram Stories.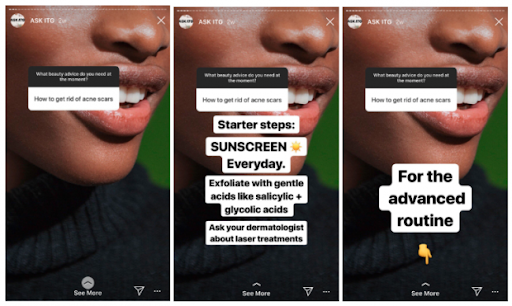 Instagram users are also fond of watching Instagram Stories, with recent statistics showing that over 400 million people watch Instagram Stories daily. To tap into this audience and truly engage with them, you need to consistently and creatively use Instagram Stories. 
Instagram also offers brands a chance to highlight their stories and pin them to the top of their profile to make them last a lot longer than 24 hours. Instagram users can easily access those highlighted Stories whenever they want by just clicking on the circle icon. 
14 different ways to use video to drive growth on Instagram
With so many options to create videos and share them with your Instagram audience, it can get a tad overwhelming. 
Where do you start from? What videos work best for your business and marketing goals? What kind of videos would appeal best to your audience?
And the list goes on.
To make it easier for you, we've outlined 3 major ways videos can help you achieve your marketing and business goals and drive growth on Instagram.
To introduce 
If you're looking to woo a new, cold audience on Instagram, videos are your best friend. Especially creative videos that display your products and create awareness about your brand – the more interesting, the better! 
Invest in the following videos for boosting brand awareness on Instagram.
Product and brand overviews
Similar to product demos, product and brand overview videos give a quick glimpse of your product and what it's all about. These are also simple to create – just show your product or service in action. 
A great example is Airtable's video.
Embed: https://www.instagram.com/tv/BsLx0L0nmjM/
Simple. Succinct. It gives a great overview of what to expect from this SAAS platform. 
With time, you can start creating more elaborate product demo videos, but initially product and brand overview videos work great to boost your brand awareness.
Stop motion videos
What's more interesting than a regular product introduction post? 
A stop motion video. 
Stop motion videos are a really interesting way to display your products. Most brands have started incorporating stop motion videos in their marketing campaigns, especially when introducing new products and services. 
Even big brands like Starbucks are huge fans of stop motion videos.
Embed: https://www.instagram.com/p/Bi7m7I4ha4c/
Time lapse videos
For new audiences, it's fascinating to watch how your product was created. 
If you'd like to show how your product was made and you don't want to bore your audience to tears ( because who has time to watch a 7 hour long video), turn it into a fun time lapse video. 
Rewind mode
Make your product introductions even more interesting with rewind mode videos. 
Here's how that looks.
Embed: https://www.instagram.com/p/BxxOZUnBRZR/
With over 26000 likes, it's definitely a people's pleaser video and one you should invest in. 
Animated videos
Animated videos are a great way to add some interest and colour into your feed. You don't need an elaborate animated video with complex storylines, either. A simple 3 second animated video can perform really well too, just like Dunkin's does.
Embed: https://www.instagram.com/p/CT2Kl1qt03g/
You can even create a simple animated video displaying your timings, hours, website details, and so on.
Embed: https://www.instagram.com/p/CXtlJfKIB8Z/
Or simply add some animation to your static posts! Great hack to turn any picture into a video in 2 seconds. 
Embed: https://www.instagram.com/p/CUfglTOI3AZ/
Influencer shoutouts
The best way to increase your reach on instagram, especially when you're a new fledgling brand is to work with micro influencers in your niche.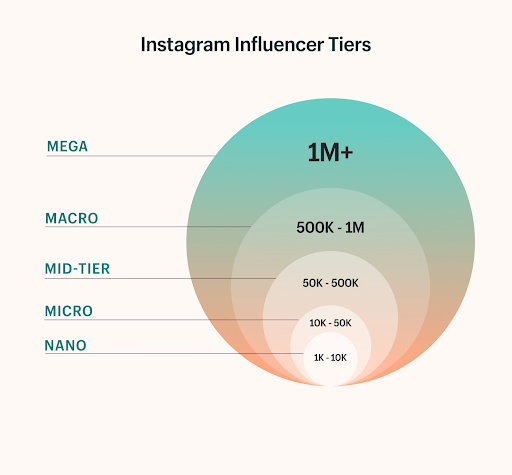 Daniel Wellington is one of the best examples of building a sizable empire through instagram influencer marketing. It enlisted help of top instagrammers and all kinds of different influencers to boost it's brand awareness. 
Embed: https://www.instagram.com/tv/CCtjiBvn4Wp/
You can run UGC campaigns with influencers, ask them to come Live with you, or even do Story hops with them!
To entertain
You've gained a sizable audience on Instagram. How do you keep them entertained? 
With increasing competition and content saturation on Instagram, it's getting more and more difficult for brands to retain their audience's attention and entertain them.
So how can brands cut through the noise and keep on top of their game through video on Instagram?
Humorous videos
Did you know according to recent research, 71% consumers watch social videos for laughter? There's a reason why cat memes are so popular on Instagram!
While education is important, people are primarily looking for an escape from their mundane life on social media. Make them laugh and they'll help you go viral. A recent study showed that 49% of Americans said they are likely to share content they find funny. 
Brands have increasingly started making use of humorous video content to entertain and retain their audience. 
Tacobell does a great job at creating humorous brand content for their Instagram profile.
Embed: https://www.instagram.com/p/CTp1uYiBK2t/
You can also sometimes reshare viral memes (by seeking permission and giving credits!). Saves time and you know for sure it's going to get a few chuckles from your audience.
Embed: https://www.instagram.com/p/CX53BZrIOOO/
Warby Parker owes a huge part of their Instagram brand success to humorous, on-point video content. 
Embed: https://www.instagram.com/p/CWBwnxPp-yA/
Trendjacking
From National Pizza Day to Groundhog Day, social media sure loves celebrating all holidays. 
Since these hashtags get a lot of traction, you can jump on this holiday bandwagon and create interesting video content that has the potential to go viral. Stay away from overly promotional videos and instead try to create entertaining videos – like GIFs, memes, and so on. 
There are other viral trends you can jump on from royal weddings to the 10 year challenge. 
Embed: https://www.instagram.com/p/BsvebVYnSfR/
Stories – polls, questions, etc
Stories are a vital part of Instagram marketing. 
Users watch Stories far more than they go through posts, so make sure during all stages of your customer journey, you're consistently creating Stories. 
Afterall, 1 in 3 daily Instagrammers say they have become interested in a product they saw on Stories. And Instagram recently announced that over 1/3 of the most-viewed Instagram Stories come from business accounts. So as a business looking to drive growth on Instagram, you really cannot afford to miss out on Stories. 
Use the plethora of features and options Instgaram offers you while creating Stories to really amp up the engagement.
Like Buffer does.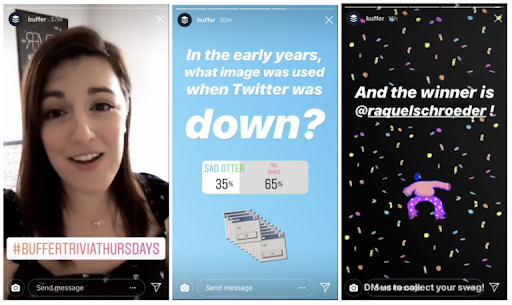 And like Lego. 
Try to be as creative as possible. 
Stories are also a great place to test your audience and see what kind of content they like best. If you're aiming for humorous content and don't want it to fall flat on its face, try posting similar stuff on Stories and see if your audience engages with it. Similarly, if you have any wacky ideas for a product launch, do a beta launch on Stories first to gauge your audience's reaction. 
Once you've gained 1000 + followers, you can also start conducting Live sessions to further engage with them. 
Team introductions/ Employee takeovers
Once your audience starts warming up, it's a great time to introduce your team and the people behind your brand. Not only does it humanize your brand, but also establishes trust early on which makes selling later down the line a lot easier. 
Be innovative when creating team introduction videos. 
Embed: https://www.instagram.com/reel/CNHZ3LpDTQk/
To educate
When your goal is to educate (and ultimately sell) to your Instagram audience, you need to start creating edutainment content – content that educates the audience while still being fun and entertaining. 
Your audience is all warmed up and would like to learn more about your products – how your products can solve their problems and change their life for the better. And this is exactly what you need to show via video content at this point.
UGC content
Start a user-generated-content campaign that encourages users to take videos and post them with your branded hashtag or by tagging you (or both!). User generated content is a great way of not just increasing your reach and brand awareness, but also getting free content to post on your feed and Stories.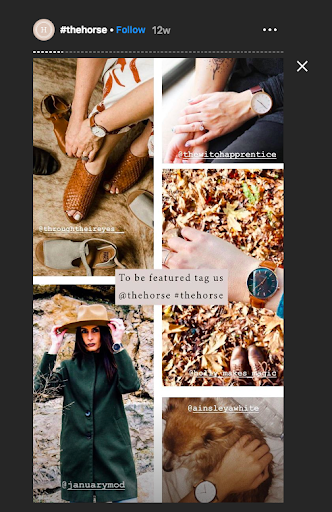 When Buffer ran a UGC campaign on their Instagram profile, their followers increased a whopping 400% – from 4,250 to 21,000 followers and counting.
Here's how Burt's Bees promotes their holiday content via user generated content.
Embed: https://www.instagram.com/p/CW3yS_-AgRY/
Reviews
Reviews are an excellent way to seal the deal and convince your already warm audience to click on your website. 
There are multiple ways you can create customer review videos. 
Add text-based review on top of a video of your product. 

Display reviews on Stories. You can also Save the story then and post it to your feed or pin it to the top of your profile in the form of Highlights.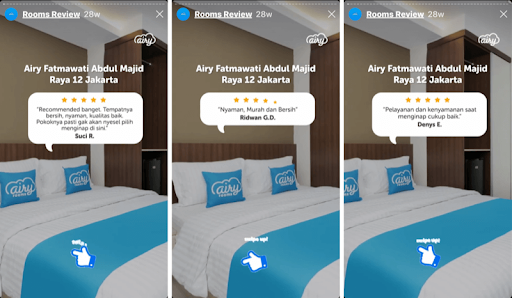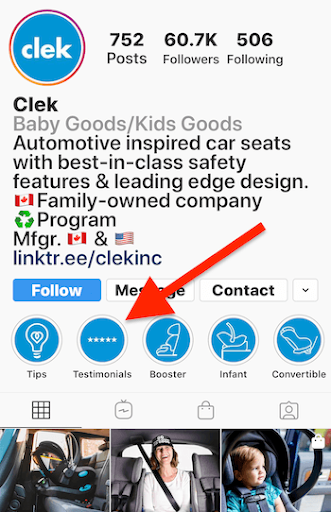 You can host happy clients and customers on a Live session and ask them questions about your product and service.

Ask customers if they'd send you a short video review describing how they found your brand. 
Embed: https://www.instagram.com/tv/BxTE81eAkxA/?hl=en
Q and As 
Your audience is eager to learn more about your product. If they're contemplating buying from your brand, they might have a few questions and reservations, too. The best way to clear all doubts, answer all their questions and convince them that your brand will solve all their problems is by hosting a Q and A session on either Stories through the questions sticker, or Live.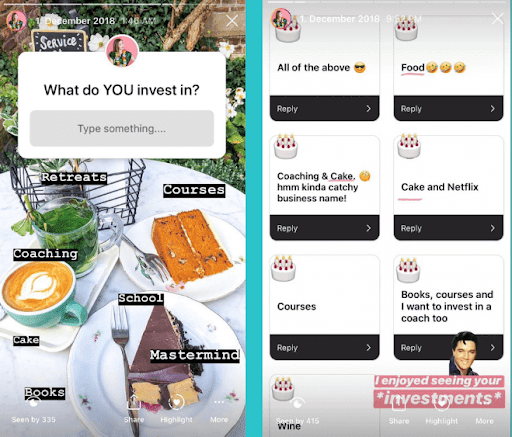 Tutorials
Tutorials videos are a favorite among Instagram users. Influencers and brands, alike, love creating tutorial videos and are seeing great results through it, too. 
Tutorial videos are not just limited to product tutorial videos only (though that should be a big part of your marketing campaign!), you can also create general tutorial videos on topics in your niche that interest your audience. 
REI makes great use of tutorial videos to establish its authority in the industry.
Embed: https://www.instagram.com/tv/CR4Gi72nVkt/
Similarly for beauty brands like Sephora, tutorial videos play a great role in driving their Instagram growth.
Embed: https://www.instagram.com/tv/CYKBDFIKDbk/
Conclusion
Video is the present and the future. Brands slow to catch on will miss all the benefits it has to offer, especially on social platforms. 
Christopher Tompkins, The Go! Agency, aptly says, "If you look at the current trends in digital (social, paid, email), notice the amount of movement that you are seeing on each channel. Then notice how much more prevalent it is than before. Since platforms (such as Instagram) are favoring accounts that post video content, this will very soon become a necessity for marketers. 
My advice is to step out of your comfort zone; you will need video soon."