How to Perform Local SEO Keyword Research
You're looking for a welder in California.
How do you find one?
You search on Google. 
Since you're looking for a local service, you'll search for the term 'Welder + California'. You might even go as far as to search for the 'Best welder + California'. If you're looking for a construction welder, you'll add that to your search query too.
This is where keywords come into play.
You want to be the first solution that comes up in response to your target audience's search query on Google. 
Why?
Because this is a warm audience, searching for a solution that your business provides. They're ready to convert – they're just looking for the right business for them! 
The higher your website ranks on Google for your keywords, the more traffic you'll get. The more targeted traffic you get, the higher your conversions. 
Let's look at some numbers, shall we?
97% of people learn more about a local company online than anywhere else.
What happens once someone discovers your local business via Google?
88% of searches

  for local businesses on a mobile device either call or visit the business within 24 hours.
Having a robust SEO keyword strategy in place is essential for your local business. If you want to drive customers to your website, you need to rank high on search engines.
And this article will teach you how to do that. 
Excited?
Let's dive in.
What is keyword search?
Keyword research refers to the process of discovering the specific words and phrases your target audience uses to search for the solutions your business is providing. 
For a local business, keywords also include locations. 
How to perform keyword research for your local business?
How do you find the exact phrases and words used by your target audience for your SEO strategy?
By following these 4 tactics.
Understand your audience
Before you start devising your SEO strategy, you need to know your audience inside out. Start by answering the following questions. 
What are their demographics? Age, gender, geographic areas. 

What social platforms are they most active on?
Since you're a local business, your audience's geographical location is of the utmost importance!
Once you know who your audience is and where they hang out, seek answers to the following questions.
What problems are they facing?

What solutions are they seeking?
The easiest way to get answers to these questions is by using social listening tools. 
Social listening and monitoring tools like Awario, Mention, and Brandwatch can help you pinpoint the exact words your target audience uses to search. Just type in your niche, industry, or main product offering. These tools will then scour through the internet and provide a comprehensive report on the keywords you've entered.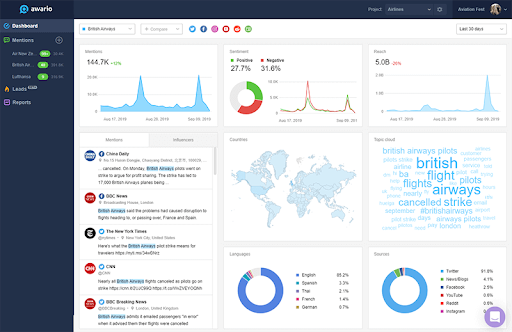 Moreover, you can use the old school method of collecting audience data by asking them to fill a survey (offering an incentive will help, too!) Keep it short, ask targeted questions, and make it easy for your audience to fill the survey. 
Since keywords are basically queries asked by your customer, knowing your customers will help you identify and create a list of targeted keywords you can use for your local SEO strategy. 
Make a list of your product offerings
The next thing you need to do is make a list of all the products and services you offer.
For example, if you're in the automobile (car repair) industry, you might offer the following services.
Car washing

Oil/oil filter changed

Wiper blades replacement 

Replace air filter

New tires 

Battery replacement  
These can go in your initial keyword list. 
Similarly, make a list of keywords that are generally associated with the industry you're in. For example, in the automobile industry, the terms 'automobile', 'cars', and 'vehicle' are all interchangeably used. 
So add similar industry keywords to your list, as well. 
Include keyword modifiers
Once you have a list of core keywords, it's time to add keyword modifiers to your list. 
Keyword modifiers are words and phrases that you add to your core keyword to improve its chances of ranking high on search engines. This way your keywords become long tail keywords, which are generally easier to rank for.
For example, a regular keyword businesses could target is 'car wash'. Adding 'best' and 'near me' or 'in downtown Houston' – 'best car wash in downtown Houston' – will turn it into a long tail keyword and make it easier for your business to rank for it. 
There are several different kinds of keyword modifiers you can add to your keyword.
Add an adjective that searchers use to search for your service. Some generic adjectives that work great for all types of business include best, top, great, and so on. This is also where your audience research pays off – you can find out the exact adjective your target audience uses to search for your business or talk about your business on social media. 
Examples, best car wash, popular car wash, top car wash
Usage keyword modifiers describe your service and who you cater to. Do you cater to men? Or just children? If you're a realtor, do you only show apartments? If you provide car services, do you only provide them for certain cars?
Examples, car wash for Honda, car wash for BMW
This is a keyword modifier every local business needs to use. Since Google now takes a searcher's physical location into account, local businesses can use it to their advantage. 
It involves adding your geographical location to your keyword!
Spy on competitors
If you know other businesses in the same industry and geographic location that are winning on digital, you can always spy on them and see what keywords they use to rank. Chances are they've already done their keyword research and have a robust local SEO strategy in place. 
You don't need to copy their strategy, but you can get a starting point by understanding what keywords they're targeting. 
The first thing you need to do is identify the right competitors. For a local grocery store, Walmart isn't a target competitor. You can't compete with their marketing budget, their offerings, and chances are your ideal target audience isn;t the same either. 
So choose competitors that are similar to yours in size. 
Next, identify competitors in other localities.
You're a grocery store based in California. There's another great grocery store of a similar size based in Arizona that has a great digital presence. The size is the same and the location is close enough (but not the same), so you can do an analysis of their keyword strategy as well.
Once you have a list of competitors you can spy on, use keyword analysis tools (such as  SimilarWeb, Follow.net, UberSuggest) to see what they're doing right.. 
6 tools to use for local keyword search
Using the right keyword analysis tools aids in creating a strong local keyword strategy. Once you've made a list of keywords, you need to figure out which ones have high search traffic, how high or low the competition is for that keyword, what are its average monthly searches, and so on.
For that you need tools. 
There are several keyword research tools (free and paid, both) that can give you a comprehensive review of the keyword you'd like to target.
Let's talk about some of the best ones. 
One of the best paid keyword research tools in the digital world, Ahrefs gives you a thorough analysis of the keyword you search for. 
With exact search volume, clicks metric (you want to know how many people actually click on the search results), keyword difficulty score, keyword suggestions, and several other metrics, it is an excellent tool to invest in.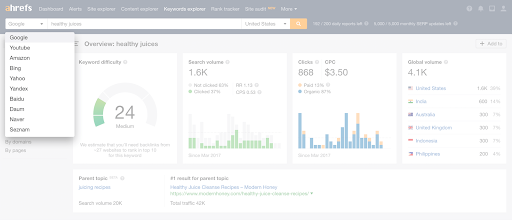 If you're a bootstrapping business or your boss isn't quite sold on the concept of local SEO strategy, there are several free tools you can use for keyword research.
One of them is Google Trends.
It's super simple to use, with hardly any learning curve. 
Google Trends displays the popularity of a keyword over time. This helps to identify seasonal trends (if a certain keyword is getting more queries during certain months), find trending topics that you can capitalise on right now, and plan your yearly content calendar (for SEO blog strategy). 
You can also use its related queries feature to find keywords similar to your keywords that are popular.
While you can't depend on it completely for keyword research, it can be a huge help when you're just getting started!
Like the name suggests, this free tool helps you generate tons of different keywords with your core keyword.
If you're stumped for ideas, just enter your main keyword (or the service/product you offer) in the search engine, and it'll generate a whole host of keyword ideas you can use. 
The best part?
These results come with their estimated monthly volume and keyword difficulty score, as well.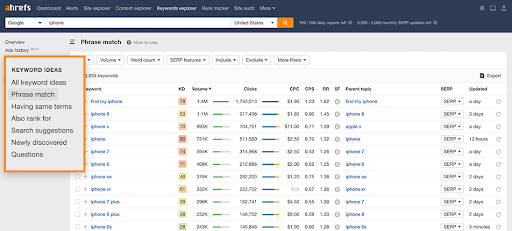 It also comes in handy when you're identifying keyword modifiers to turn your keywords into long-tail keywords.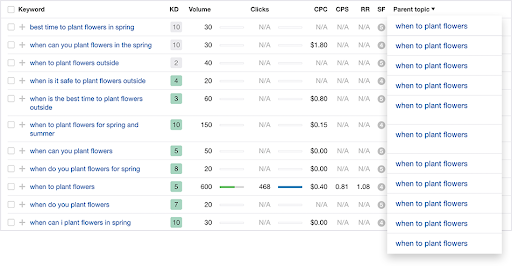 One of my favourite tools for brainstorming keyword ideas. 
Answer the Public finds questions and phrases (prepositions, alphabeticals, and comparisons) related to your seed keyword.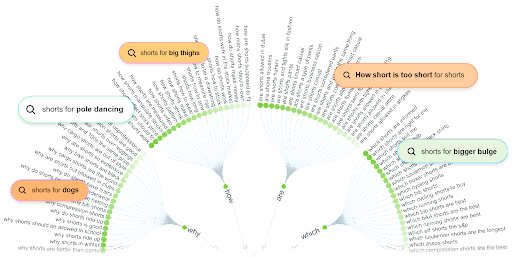 Not only do you get a ton of ideas related to your core keyword, but also a lot of supporting keywords that you can use for content creation. 
If you're looking for a Google Chrome extension that helps you analyse keywords, look no further. Keywords Surfer is free (its creators have promised to keep it free forever!) and shows global and monthly search volumes for Google queries.
Since you're a local business, you can turn off its global search queries and just focus on the monthly search volumes. 
It's an excellent keyword search tool that helps you identify search volumes of various keywords while you're surfing online. You can get several content ideas via this, understand how other businesses are using keywords to rank high, and even spy on your competitors.
It also shows similar keywords in search results to further aid you in this process.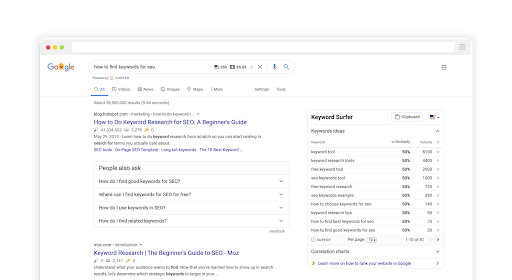 If you're looking for a tool that's created solely for local business, Bulk Keyword Generator is it.
It is a, "free local SEO keyword tool for small businesses and marketers. Select a business type and city, and it will automatically generate local keywords for your industry that potential customers might use to find you."
It allows you to generate keyword ideas by entering your industry or business type. You can also add your core service/product in this space.
It then asks you to enter your geographical location to find local keywords you can use.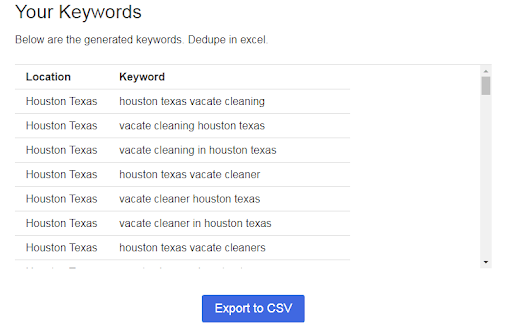 3 tips to rank high on search engines
Now that you have a list of targeted keywords, what do you do?
You add them to your website and your local listings. The primary factors that Google uses to rank websites are relevance, distance and prominence. Since you're a local business, distance is already in your favour. You just need to ensure you're using your location as part of your keyword. 
How else can you improve your local SEO?
By following these tips.
Optimise your GMB listing
You've claimed your Google My business listing. Excellent!
According to Google's Consumer Insights, the number of searches containing "near me" has increased by more than 200% over the last two years! To take advantage of this, you need to optimise your Google My Business listing and make sure it's ranking on the first page when people search for your target keyword.
How do you do that?
Comprehensively fill your profile. Make sure every detail is mentioned – from your visiting hours to selecting the right categories. When selecting categories, don't go overboard by choosing all the categories that relate to your business, just choose the core categories (core services and products you offer).

Add keywords in the name, description, Q and A section, and the content section. However, keyword stuffing is against Google's rules, so don't attempt that.  

Add professional pictures and videos to your profile (for further relevance!)

Encourage customers to write you reviews. If you can guide them to add your target keyword in their review, that's even better.

Promptly answer when a user leaves a question on your listing. 
On-page SEO
Next comes your website.
First thing you should do is make sure your NAP (name, address, and phone number) are not only mentioned clearly and visibly on your website, but also consistent throughout your listings and social media profiles. 
If you can link your Google Maps to your website (preferably in the footer or on your Contact Us page), that works even better. 
Start creating content on your website's blog and use the keywords you've gathered. Use tools like Answer the public to come up with content ideas where you can effectively use your target keywords and also establish your authority in the industry. 
Create local-based service/product pages to further boost your rankings. You can optimise the headers through this tactic and create additional content to convert leads. 
Internal linking is essential for on-page SEO, as well. When creating blog content and website pages, find ways you can improve your internal linking. 
For example, once you've created local service pages, you can use the same keyword on the homepage (when describing the different services you offer) and link them to these pages.
Page speed
Do you know, a one-second delay in page load time can cause,
16% decrease in customer satisfaction

11% fewer page views

7% loss in conversions
Improving your page speed not only helps to boost conversions, improve user experience, but also boost your website rank on search engines. 
The first step towards improving page speed is by checking your page speed. Visit Pagespeed Insights, enter your URL and check how fast (or slow) your web page is.
Here are some tips and tricks to improve your page speed. 
Conclusion
Keyword research and creating an SEO strategy sounds like a daunting task. But it really isn't. If you have the budget, it's a great idea to hire an SEO strategist to take care of your business's local SEO strategy. 
But if you don't have a high budget just yet, following the above mentioned tips and tricks can help you create a strong local keyword strategy for your business.
Just take the first step. Identify the right keywords. And then start using them on your website, listings, and social profiles. 
Don't forget to test your SEO efforts, so you can improve your strategy over time!