8 Content Marketing Trends to Keep an Eye on in 2022 and Beyond 
66% of marketers expect their 2022 content marketing budget to increase more than their 2021 budget.
Content marketing is constantly evolving, with a new trend coming up every 10 seconds. Pillar pages, AI powered content, voice and image search, augmented reality, visual storytelling, and the list goes on. 
But, businesses that want to stay relevant in the digital sphere, need to keep on top of all the latest trends in the content marketing world. 
After all, without content, you can't grow your email list, build a loyal social media following, or convert leads into customers. Content truly is the cornerstone of your digital marketing. 
So what trends should you follow to ensure that your content stands out in 2022 and beyond? 
Let's find out.
Increase in the use of interactive content
Games, quizzes, calculators and other types of interactive content have been on a rise since the past few years. 
Research shows that since COVID, interactive content has seen a 94% higher increase in engagement than static content. 
Neha Singh, founder and CEO of Obsess, says, "Consumer demand for interactive online experiences also skyrocketed during the pandemic. That demand encompassed entertainment, gaming, fitness and, of course, shopping."
This year has seen several giants like Netflix invest into interactive storytelling to engage their audience. 
As Andy Weil, Netflix VP of comedy and interactive lead, says, "The idea is to get people interacting. Instead of just sitting back with a passive experience, maybe we'll push more people into games. They'll be aware that there's more on Netflix than just TV and movies."
Netflix is all set to introduce a Trivia quiz, or better known as a Trivia Quest, on the 1st of April, which is a series of episodes that will quiz viewers. 
Embed: https://youtu.be/9ijh4nWgiMg
Why are all these brands investing heavily in interactive content?
Not only does it boost audience engagement, but 93% of marketers believe interactive content is useful in educating buyers.
As a small brand, how can you add interactive marketing to your marketing mix?
Quizzes
Quizzes are not only easy to create, but brands have seen great success with them. Take Buzzfeed for example – 96 percent of consumers who start BuzzFeed contests actually finish them!
With a plethora of quiz creation apps available online like HubSpot, Survey Anyplace, Typeform, SurveyMonkey, and Qzzr, it's easier than ever to create fun quizzes for your audience.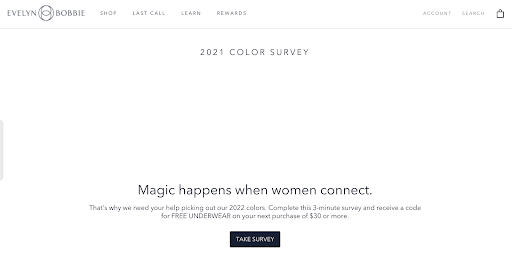 Interactive Stories
Instagram Stories is a great way to experiment with interactive content. Polls, Q and A stickers, sliders, countdowns and other similar features available on social media stories can help you get started with interactive content!
Calculators
Calculators are all the rage in the content marketing world, especially in the eCommerce industry. From ROI calculators to calculators focused on health and well being, businesses of all sizes and types are using them in a multitude of ways. 
Like this one.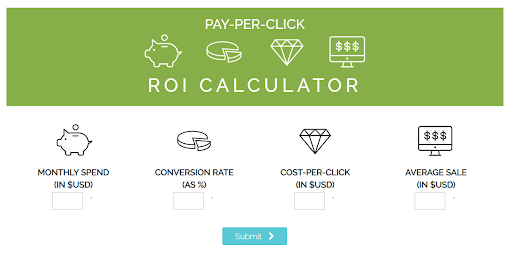 Live chat tools
Chatbots and the likes are a great way to not just offer personalized experience to your viewers, but also engage them. They can instantly add oomph to your website and empower your content marketing strategy. 
After all, 56% of people would rather message than call customer service and 53% of people are more likely to shop with businesses they can message!
More and more businesses, like Portside, are using chatbots on their websites to streamline customer service.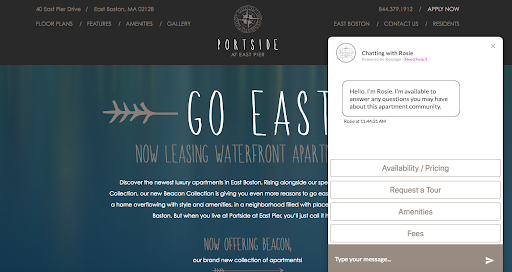 Visual content pieces
Think interactive infographics and data visualization content assets. What exactly are interactive data visualization assets?
According to Heavy.ai, "Interactive data visualization refers to the use of software that enables direct actions to modify elements on a graphical plot."
Brands in various industries are creating interactive visual content pieces and seeing great results.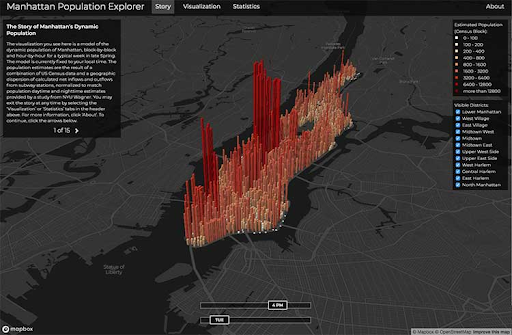 Embed: https://public.tableau.com/views/MakeoverMonday-Week44-BankHolidays/BankHolidays?:embed=y&:embed_code_version=3&:loadOrderID=0&:display_count=y&:origin=viz_share_link
Checklists
Another great way to add an  element of interactive content to your marketing strategy is by creating interactive checklists.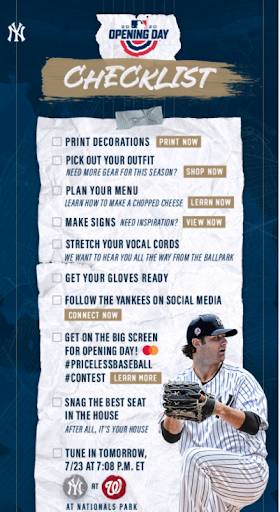 Games
Creating branded games require investment, but they're an excellent way of creating brand awareness, engaging your audience, broadening reach, getting user data, and creating a buzz on social media! 
JustPark'How old are your reactions?' is a great example.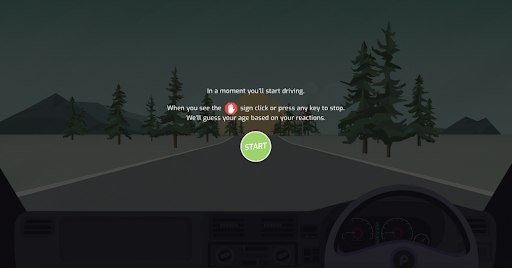 A hybrid of live and virtual events
Did you know 73 percent of event planners now think hybrid events will continue to be more common in the future?
Research shows that hybrid events are on a rise. 
A recent research indicated that more than 75% of respondents will host at least a portion of their events virtually in 2022, while 51% expect most of their 2022 events to be produced in a hybrid format, and 25% expect their events to be fully virtual this year.
Marketers and businesses of all shapes and sizes are seeing remarkable results through these events. 
According to Luiz Martins, CMO of 6Connex, "For organizers, it's about creating a balance between in-person and virtual offerings to take advantage of the benefits both approaches offer. The last 18 months has illustrated the ROI of virtual components, which include cost savings, attracting a wider audience and sustainability."
Research shows that 86% of B2B organizations see a positive ROI of their hybrid events 7 months after the event date.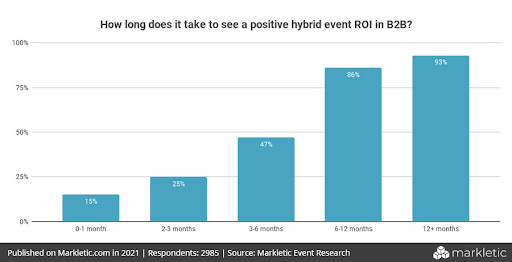 And 34% of event organizers expect to invest more in hybrid events in the next few years!
So what exactly are hybrid events?
Hybrid events are a mix of live and virtual events. It's when a business conducts a live event and adds a virtual element to it to allow participants and viewers to engage in real time. It allows both your live and online audience to participate and engage in the event seamlessly. 
A great example is Junction. They hosted a hybrid hackathon, which was hugely popular. And their goal was to engage their global audience. 
"We still wanted to engage our audiences around the world, as Junction hackathons are about the experience. It's not a normal hackathon you have in your high school gym, it's something that gives you that wow effect," says Virva Brax, Head of Marketing & Communications, Junction.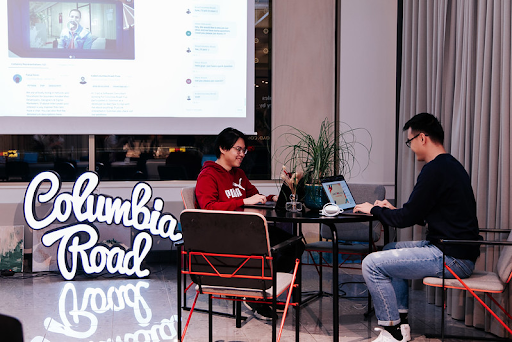 Using Brella, a hybrid event platform, they established multiple hubs around the world so their audience could join in locally and virtually – whatever worked best for them. 
Result?
Excellent feedback and engagement from attendees. 
Hybrid events have several benefits.
Increased reach

. According to research nearly

98% of attendees at a hybrid event were not planning to attend live

. Think of the amount of people you can reach if you open up the possibility of allowing attendees to attend your event virtually! 

Higher engagement with attendees

. Uploading your event video on YouTube is all well and good, but does it help with audience engagement? No. Hybrid events allow (and encourage!) attendees to participate and engage in the event. Use a mix of polls, live Q and As and other engagement strategies to further amp up engagement. 

Better sponsor opportunities

. One of the goals of conducting an event is getting the right sponsorship opportunities for your brand. One that establishes your brand credibility, builds prestige and improves your brand image. And hosting hybrid events is an excellent way to attract powerful sponsorship opportunities. Afterall, research shows that

72% of corporate sponsors are interested in participating in a hybrid event

!

Get an insane amount of marketing content.

Atomising and repurposing content is a great way to fill your marketing pipeline with relevant content. And hosting events, especially hybrid events where attendees get to engage in real time, allows you to gather a ton of content. Q and A sessions can easily be turned into a separate video and a blog post, snippets of the livestream can be used to promote future events, and so on. 
Hyper-personalization approach towards content
Broken and non-linear customer journeys require brands to make extra effort to understand the needs of their audience. That's where hyperpersonlaistaion comes in. 
During the pandemic, nearly 40 percent have switched brands or retailers and more than 80 percent have new shopping behaviors. 
As Andrea Mathews, head of customer engagement & loyalty, Petco says, "The current economic landscape and supply chain challenges should lead brands to lean into personalized, targeted interactions and offers more than ever before. This will help retain the right customers and ensure they continue to feel valued by the brands they love, while also minimizing margin and inventory impacts of offering one offer to the entire customer base."
Hyper-personlaisation takes personalisation a notch further – it combines AI, machine learning, data, and real time analytics to deliver content that's personalized to each individual.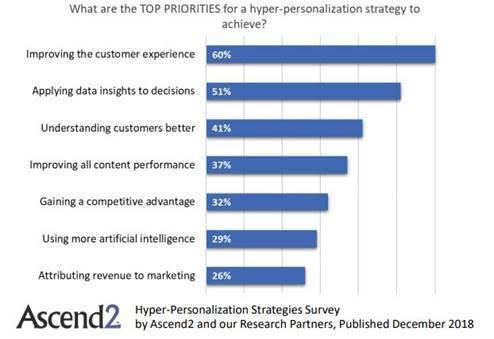 As Lisa Loftis, principal product marketing manager on the SAS Global Customer Intelligence Team, explains,  "Deloitte predicts that 75% of companies will invest in hyper-personalization with the express intent of increasing personalization, helping people to feel more connected and offering more inclusive experiences."
And it's working pretty well for brands.
Revolve managed to increase their revenue by delivery by 8 times! 
How? 
By using automated campaigns and hyper-personalized messaging!
How can you include hyper-personalisation in your content marketing strategy?
Understand your audience
You probably know who your target audience is, where they live, what they earn and what their problems are. 
But do you understand each individual's buying journey? What complaints do they have with your content? What stops them from reading your content, engaging with it, and ultimately buying from you? 
Hyper personalisation starts with obtaining a deeper understanding of your audience via surveys, polls, interactive content, social listening tools, etc.
The more you know about your audience the better you can serve them.
Use technology to wade through data
You've gathered enough data about your audience. Now how do you make heads or tails of it? How do you fully utilize it and leverage it to create hyper-personalized offers for your audience?
By enlisting the help of tools and platforms,  like HubSpot, Optimizely, etc, that take your data and help you put together a coherent marketing strategy.
Automate it
Once you've started implementing your hyper-personalized content marketing strategy, it's time to embrace marketing automation.
Invest in tools that automate personalized emails, product recommendations, etc. A lot of these tools come with robust real time data and analytics reporting, too!
Branded audio content
Marketers and businesses are increasingly spending on branded audio marketing. Statista reports that spending on audio marketing jumped from $1.1 billion in 2016 to $3.09 billion in 2020! 
That's a 3x increase in just 4 years!
Andrea Palmer, Publicis Health Media (PHM), says, "Audio is a key trend in 2022, particularly podcasts! U.S. consumers listened to nearly 15 billion hours of podcasts in 2021, up 25% from 2020. This is a nascent platform and an incredible opportunity for marketers."
If you're new to audio marketing, these are the 4 main audio marketing platforms you need to take notice of. 
Voice search
The first platform you need to invest in is voice search. Just like mobile-first websites receive a boost in search rankings, voice search is expected to dominate SEO in 2022 and beyond. 
According to recent research, 58% of consumers use voice search to find a local business online and a staggering 122.7 million Americans used voice search in 2021! 
And not to forget, voice-based shopping will soar to $40 billion by 2022.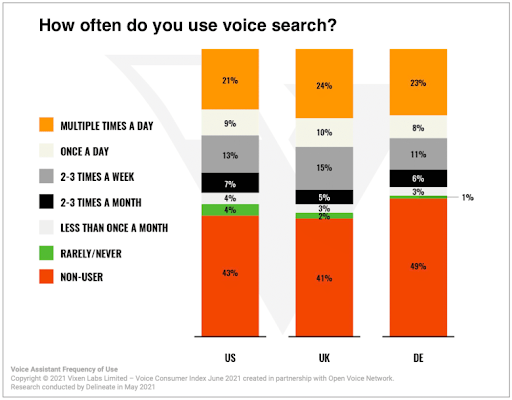 Podcasts
Podcasts have been around for quite some time now. But post COVID, they're gathering more and more popularity. In 2021 alone, U.S. consumers listened to 15 billion hours of podcasts!
As Sheryl Worsley, vice president of podcasting for Bonneville International, KSL Podcasts, says, "Both podcasts and radio shows are intimate and can drive a strong loyalty and listenership. In my experience, a loyal podcasting audience drives more passion in both listening and in response to advertising and the research backs that up."
According to a study published by IAB, around two thirds of listeners say they're more likely to consider purchasing or researching a product based on a podcasts' recommendation or an audio ad from a podcast they like.
Audiobooks
If you've dipped your toes in the world of publishing books, you can definitely consider turning them into audio books. Audiobooks are taking the publishing world by storm. 
Their sales have eclipsed eBook sales by quite a margin! In 2020 alone, audiobook sales revenue in the United States reached 1.3 billion U.S. dollars. 
Audio ads
Similar to conventional digital ads, audio advertisement is the delivery of ads via online audio platforms. 
As Stas Tushinksy, co-founder and chief executive of voice marketing platform Instreamatic, rightly says, "Consumer behavior has shifted to voice, and everywhere we look, we see a lot of evidence and we see how far voice-tech adoption has gone. People do prefer to talk to a device when they can, and the volume of audio messages is rapidly growing."
Using AI tech
The 2021 State of Marketing AI Report found that one of the top areas marketers are using AI is in content marketing. Some of the content areas where AI is widely used include data-driven content creation, choosing the right keywords for content optimisation, and predicting the winning creative without A/B testing. 
Research shows that 78% of executives depend on AI to enhance content generation and 75% of business leaders are confident AI will help them make better decisions. Moreover, in a survey of CMOs,  43% of respondents pointed to marketing technology, data, and analytics as their top priority for the upcoming 12 months.
As Kate Bradley Chernis, Founder and CEO, Lately says, "If you're not using AI in your sales or marketing stack, you're eradicating yourself." 
How can you use AI tech to supercharge your content marketing?
Understand your audience better
Before you start creating content for your audience, you need to know them inside out. AI helps you do that. Boosting customer engagement, customer loyalty, and most importantly improving customer experience (CX) is critical for brands to survive and thrive in the modern digital sphere. 
Use AI and machine learning to gather and analyze social, historical and behavioral data of your consumers. This allows you to create and deliver hyper-personalized content for your audience and eliminate barriers in the customer journey.
Build a better content strategy
Marketers often manually sift through data and rely on instinct to create a content strategy. A better (and more effective) approach is to use AI and machine learning tools to create smarter content strategies. 
There are AI tools that analyze your existing content performance data, compare it with your competitor websites, and make forecasts about pretty much everything – what topics to work on? What keywords to target? What word length to stay within? And so on. 
Track your content marketing success with AI
You can use artificial intelligence to track your content marketing campaigns and further optimize them. 
Invest in tools that,
track consumption habits of your website visitors, 

spot drops in engagement, 

provide real-time analysis of mobile and web content consumption, 

help analyze metrics and generate easy to consume reports, and 

facilitate A/B testing.
Transform customer management relationship
74% of companies say that converting leads into their customers is their top priority. An efficient and effective way of making that happen?
Using AI powered CRM tools.
According to research, 74% of respondents say that CRM solutions give them better access to customer data, allowing for more personalized service.
Businesses are also seeing excellent results with the adoption of CRMs. The average ROI on CRM is $8.71 for each dollar spent!
There are a multitude of ways AI can empower customer relationship management. AI driven chatbots can automate customer care. Speech analytics can help businesses produce personalized offers. AI-driven forecasts can help reduce customer churn. 
Utilizing visual recognition tech
The AI visual recognition industry is growing at a staggering speed. 
Studies reveal that AI Image Recognition Market estimated value was USD 1695.93 million in 2020 and is expected to reach a value of USD 5161.04 million by 2026!
Nick De Toustain, sales director at LTU technologies, explains why. 
"First there were barcodes, then QR codes, but neither of those is intuitive. Taking a picture of something is.
As humans, we're naturally geared to taking pictures of things we actually see, not codes or tags. Image recognition has become a practical alternative to QR codes. People, not just Williamsburg hipsters, have a growing expectation that they can snap a picture of something of interest and get something cool and useful back."
Several companies have started using visual recognition to get ahead in the content marketing game. 
Boohoo, an online retailer, is one of them. 
They allow users to upload pictures of styles similar to the items they're looking for. Boohoo then shows more personalized and targeted results to users.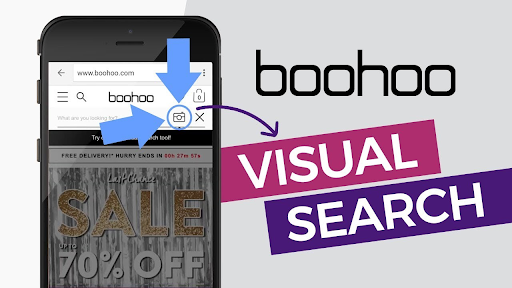 Sephora, another giant in the eCommerce space, uses visual recognition tech to help users try on different items and see how they look on them virtually.  
From speeding up visual trend analysis (manually sifting through images for content trend analysis can be uneconomical!) to analyzing sponsorship activities in events, it can be very beneficial for growing brands to invest in visual recognition technology. 
And with over 85% of logos within images posted to social media not containing any tag or text brand mention, visual recognition tech can help brands conduct better social media monitoring!
UGC content is on a rise
Annette Sally of Blue Sky Agency, says, "I expect to see brands lean into leveraging user-generated content and user-directed content. The world has lain dormant over the past two years, and consumers are eager to get out and be active again. 
The result is endless amounts of usable content. 
Brands and agencies need to create strategies to best gather and use UGC and UDC content for their creative marketing purposes."
User generated content is original, branded content created by customers, employees and brand loyalists that can be reshared on social media and other marketing platforms. And with every passing year, its popularity as a content marketing tactic is only growing. 
In 2022, the global UGC market has increased to a whopping $3.58 billion!
The biggest reason why it continues to work so well is because consumers prefer user-generated content over brand-created content.
Consumers are 2.4% more likely to say UGC is more authentic compared to branded content.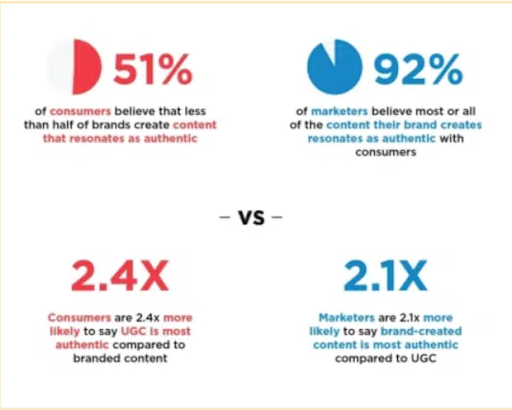 Here are some numbers to prove that user-generated content is the future of content marketing.
According to a report by Customer Acquisition, 
Brands see over 28% conversion rates when they combine paid ads with UGC content,

User generated content in the form of video enjoys 12x more negagament than other type of content,

UGC ads get 20% to 50% more user attention than conventional ads.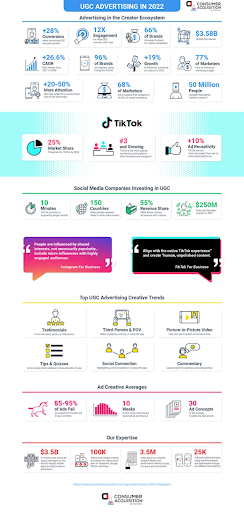 While we see big businesses like Dunkin Donuts and IKEA consistently using user-generated content in their marketing mix, smaller brands are seeing great results through it, as well.
One such business is AliDropShip.
They managed to earn $359 in two days by effectively combining UGC and paid advertising. 
How can you incorporate UGC in your content marketing strategy?
Start a hashtag campaign
If you have an established social media presence, hashtag campaigns will work great for you. Create a short, easily shareable branded hashtag and ask followers to use that when posting content about your brand.
La Croix, a sparkling water brand, uses hashtag #LiveLaCroix to encourage user-generated content. The hashtag itself allows them to keep track of all the posts that they receive via customers and repurpose them. 
Embed: https://www.instagram.com/p/CbcfvoHLDxI/
Foster a community
Create a community around your brand and encourage customers (and prospective customers) to share their life with you. One way to do that is by creating a virtual community in the form of Facebook groups just for your community. Provide value in the group, encourage discussions around your products and services, and ask customers to share their stories in the form of written or visual content there. 
You can easily track and monitor user-generated content in the group, seek creator's permission, and post it on your social media feed. 
Run giveaways 
Photo contests and giveaways are an excellent way to generate content by users. 
One of the most popular examples of a UGC giveaway is StarBucks Red Cup giveaway.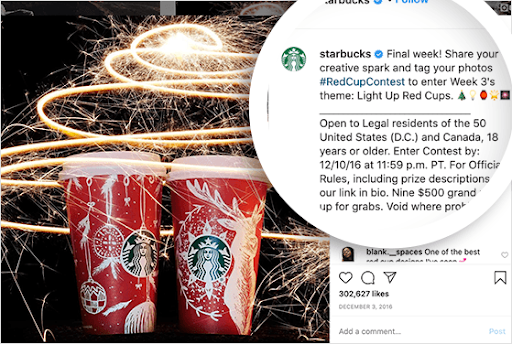 Other examples include, 
Swizzle's giveaway where users had to post a picture or video of them showing what they're up to in summers on the Swizzles website. If you don't have a strong social media presence but receive a healthy amount of traffic to your website, hosting a UGC giveaway on your website is a great idea.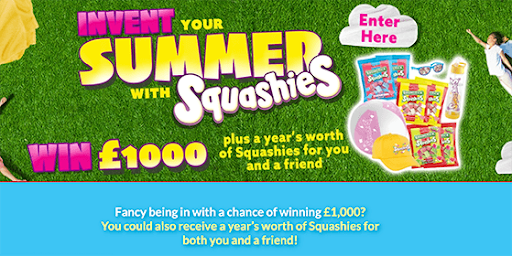 PopUp Business School's giveaway shows that you don't need to be in the beauty industry or the food industry to create a fun UGC giveaway!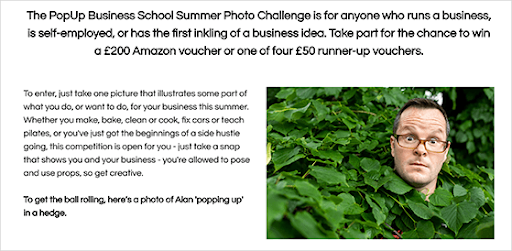 Inclusion and diversity in content
According to Deloitte's survey on inclusive content '57% of consumers are more loyal to brands that commit to addressing social inequities in their actions.'
A 2019 consumer survey by Google and The Female Quotient also revealed that '64% of all respondents took some action after seeing an ad they considered to be diverse or inclusive.'
Diversity and inclusivity are more than buzzwords in the marketing sphere. In order to build a deeper connection with your audience in 2022 and beyond, you need to incorporate diversity and inclusivity in your content marketing plan. 
How do you start?
Understand your audience
Who's following you on social media? 
Your followers see and engage with your content, so being aware of who they are is essential.  
Who's purchasing from you? 
Track your website and sales data to determine who your customers are. 
Who's your target audience? 
Gender, ethnicity, age, everything comes here. 
If you're a local business, which different ethnicities, races, etc live in your city? 
Understanding your audience is the first step towards creating diverse and inclusive content for them. Dig into your audience and create a comprehensive audience persona. 
Create a diverse team
Having a truly diverse team helps you get clearer on the kind of content your audience prefers. 
As Del Johnson in the diversity Google Report says, "The more distance there is culturally between your team and the market, the less ability you will have to execute. We all fall into particular biases. That's why you need to have culturally competent people in the room who have the power to affect decisions. By bringing in the talents of those who have traditionally been overlooked, you unlock true creative expression — and build an organization able to check its biases."
Go over your content multiple times to check for diversity
Engage multiple people (preferably a diverse group of people) in editing your brand's marketing content. Encourage  everyone to critically go through the content and make sure its language, visuals, etc are promoting diversity. 
Conclusion
Successful content marketers are always on the lookout for new trends and developments in the digital marketing world. 
Which of these 8 trends are you looking forward to incorporating in your content marketing strategy?