(

JEM

SU

) a Conversion Rate Optimization Agency
Conversion rate optimization is the critical aspect of improving your website's conversion of visitors into actions, leads or sales.  Small improvements to your conversion rate can have a large impact on your business' bottom line.  We use a variety of lead and sales capture techniques from sticky headers and exit intent pop-ups to floating footers, strategic forms and conversion optimized landing pages.   In addition, we monitor and improve conversions with split tests, a/b tests, heatmaps, session recordings, form analtyics and funnel analysis.  This page breaks down the 4 important parts of conversion rate optimization.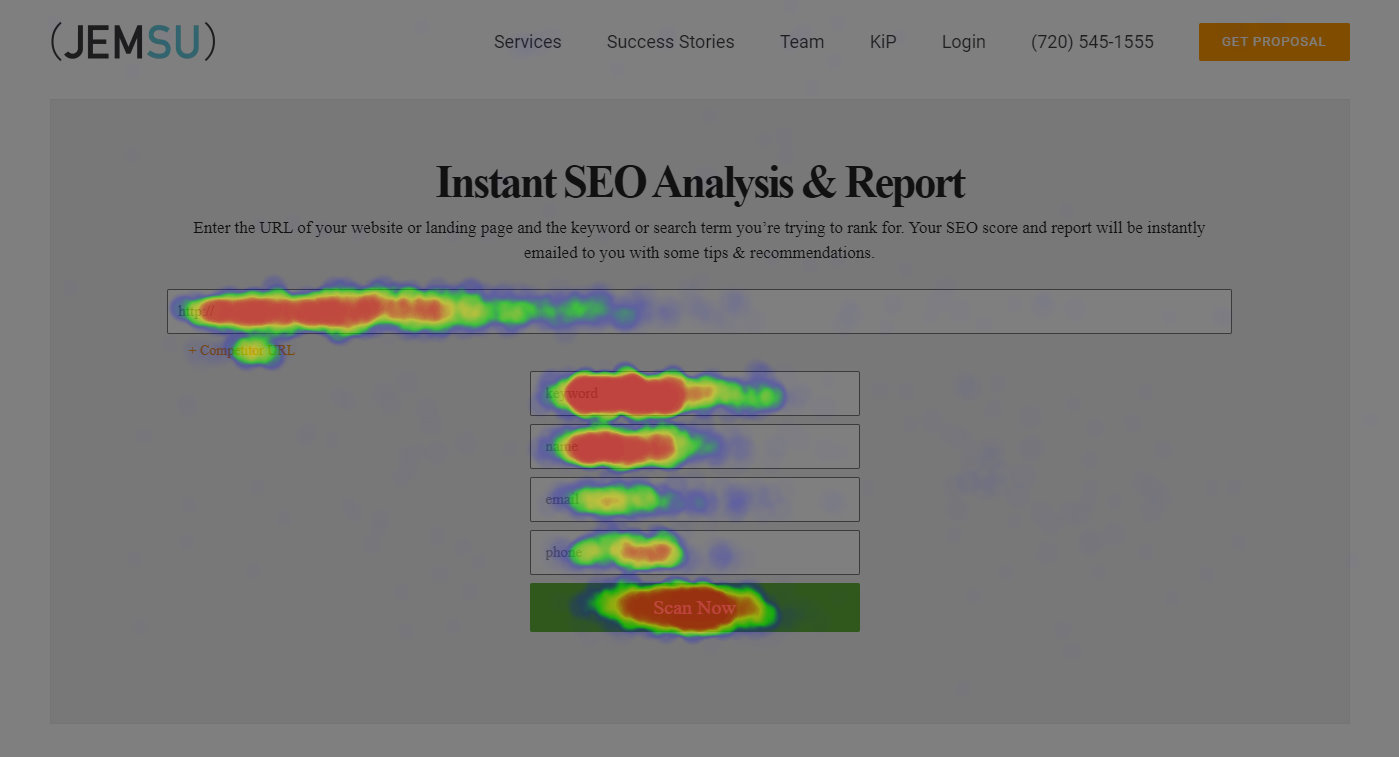 Conversion Tracking
Conversion tracking is the starting point of conversion rate optimization.  It's a non-negotiable, must have to begin improving your conversion rate.  All of your website's conversions goals should be tracked with precision across every digital channel.  Google Analytics is the most popular way to track all your website statistic and conversions.  The 5 key conversion actions that can be tracked with Google Analytics are:
1.Form Submissions.  Whether you have a simple email capture for newsletters or multiple complex forms with dozens of fields, all form completions can be tracked using a page destination or event goal type in Google Analytics.
2.Phone Calls.  For many businesses, phone calls are the primary way they get new leads and business.  Call tracking & recording software can be easily integrated with Google Analytics to capture phone calls as conversions.
3.Ecommerce Purchases.  Conversion tracking for ecommerce is the most straight forward.  Simply pass each purchase and its value from your shopping cart directly into Google Analytics using the ecommerce settings section.
4.Website Events.  A variety of website events can be tracked as conversions such as: button clicks, videos watched, social shares, time spent on website (duration), pages per session, sections opened or other website events and interactions.  These types of goals / conversions can be more challenging to quantify, so be thoughtful when adding them as conversions and/or giving them a goal value.
5.Smart Goals.  Smart goals are an alternative to tracking conversions.  This Google Analytics goal setting allows you to measure the most engaged visits to your website and automatically turn those visits into goals / conversions.  Google states: "…if you aren't yet measuring conversions, Smart Goals is an easy way to use your best sessions as conversions. You can then use Smart Goals to optimize your Google Ads performance."
Smart Goals are configured at the view level. Smart Goals use machine learning to examine dozens of signals about your website sessions to determine which of those are most likely to result in conversions. Each session is assigned a score, with the "best" sessions being translated into Smart Goals. Some examples of the signals included in the Smart Goals model are Session duration, Pages per session, Location, Device and Browser. (Remarketing Smart Lists use a similar machine learning model to identify your best users.)
To determine the best sessions, Smart Goals establishes a threshold by selecting approximately the top 5% of the traffic to your site coming from Google Ads. Once that threshold is set, Smart Goals applies it to all your website sessions, including traffic from channels other than Google Ads. After enabling Smart Goals in Analytics, they can be imported into Google Ads.
Setting Goal Values
Setting goal values is an important part of thorough conversion tracking and conversion rate optimization.  Setting values to your goals and conversions is particularly important when calculating the ROI across all your digital channels that feed your website.
When you set up a goal, you have the option of assigning a monetary amount to the conversion. Each time the goal is completed by a user, this amount is recorded and then added together and seen in your reports as the Goal Value.
Every action a user takes can be translated into a dollar amount. One way to help determine what a goal value should be is to evaluate how often the users who complete the goal become customers. For example, if your sales team can close 10% of people who sign up for a newsletter, and your average transaction is $500, you might assign $50 (i.e. 10% of $500) to your newsletter sign-up goal—a goal that users complete when they reach the final newsletter sign-up page. In contrast, if only 1% of signups result in a sale, you might only assign $5 to your newsletter sign-up goal.
Conversion Analytics
Conversion analytics help you identify your website's customer behavior up to the point of conversion.   Knowing your customer's journey on your website can help you make the proper changes to improve your conversion rate.  All websites should install Google Analytics to track customer behavior and conversions across there websites, but additional, visual conversion analytics should be installed to enhance the understanding of customer behavior.
1.Google Analytics.  Once conversion tracking has been properly setup, Google Analytics will allow you to associate conversions with a wide range of metrics including, demographics, geography, technologies, devices, traffic sources, landing pages, website behavior and more.
2.Heatmaps.  Heatmaps are a popular way to to visualize customer behavior on your website and identify content that is "hot" or gets the most attention and interaction.  There are three types of heatmaps, click heatmaps, scroll maps and attention heatmaps.  Each heatmap type tells you something a little bit different about how your website visitors interact with your content.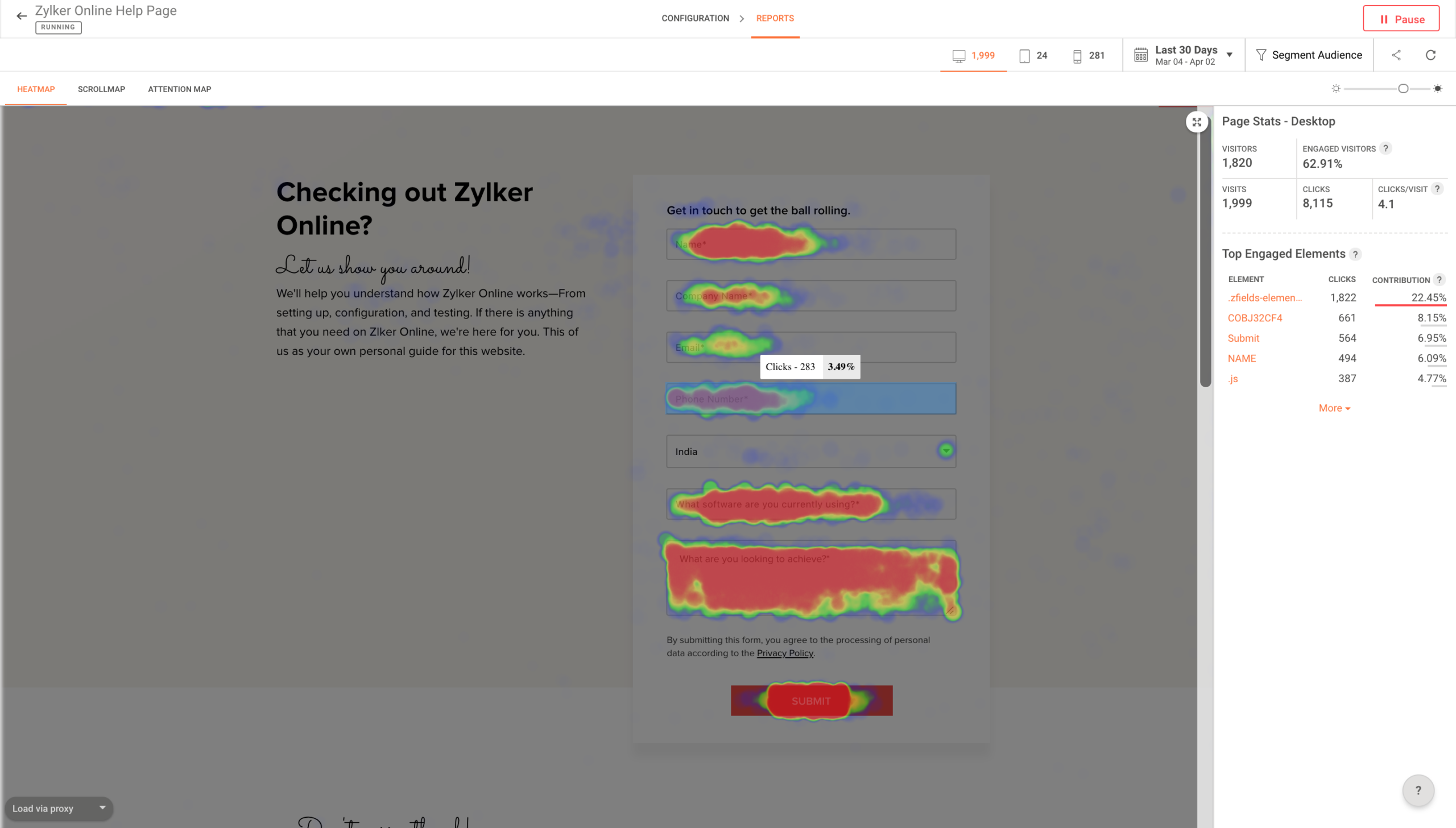 3.
Session Recordings. 
Session recordings allow you to watch screen recording videos of each website session.  These screen recording videos give you the best understanding of how your website visitors interact with your content because it records ever behavior of the visitor with video.  The ability to skip pauses and increase recording speed up to 4x makes this rather tedious process of analysis a little be faster.
4.Funnel Analysis.  Both Google Analytics and visual conversion analytics can help you create and monitor conversion funnels.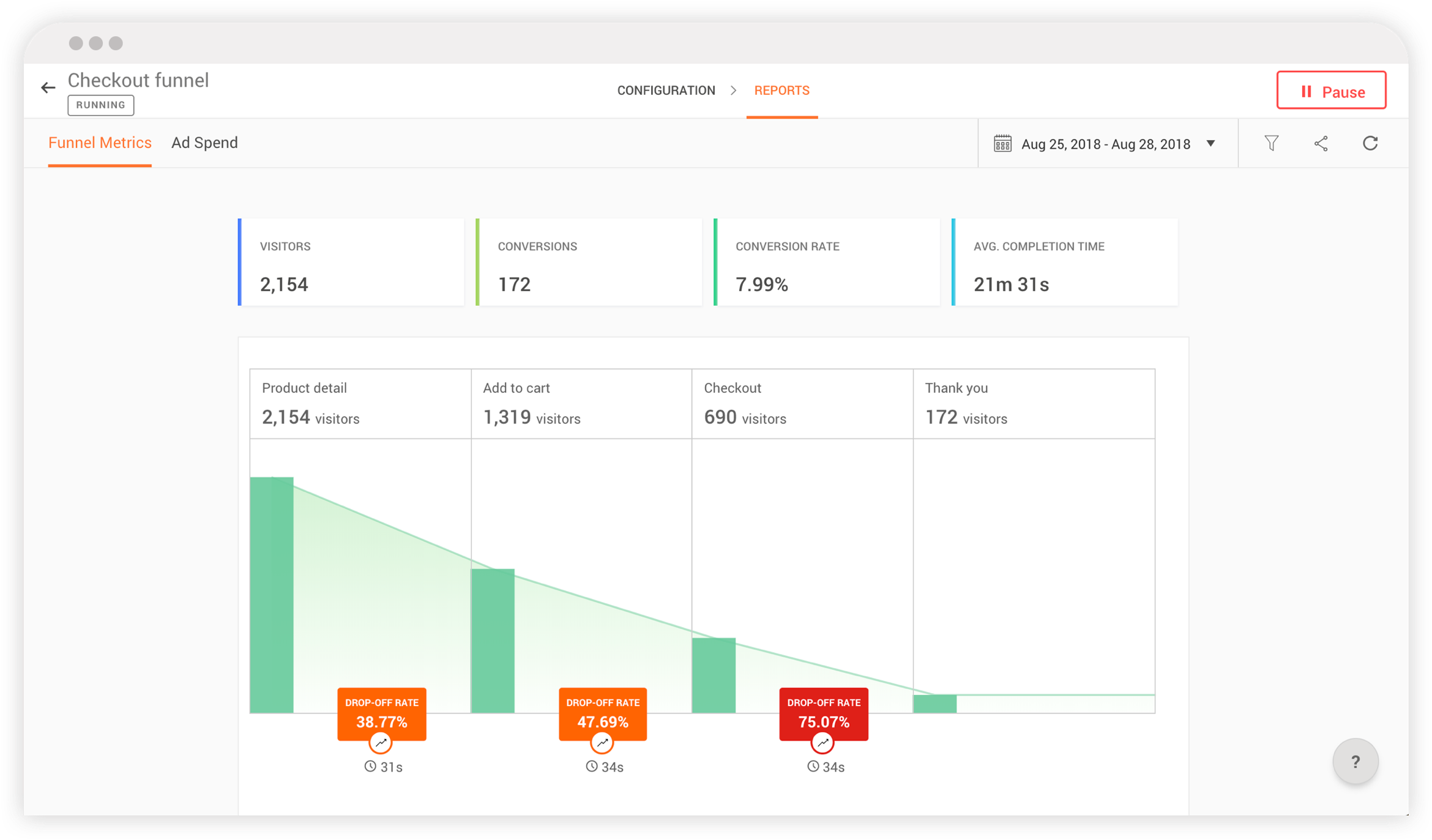 5.Form Analysis
Conversion Elements
Several elements on your website can help improve the conversion rate of your traffic into leads and sales.  Accessibility, trust, results, humanization & discount are the 5 conversion element categories we believe have the greatest impact on conversion rates.  This section will explore these 5 primary conversion element categories and the several elements both on and off your website that build trust with your customers and enhance your conversion rate.
Accessibility
Most people think of ADA standards when it comes to accessibility, however, accessibility is the ease of conversion for every website visitor.  Implementing accessibility elements can have big impact on your conversion rate.
1.Sticky Header
2.Robust Footer
3.Multiple Communication Points
4.Contrasting Action Buttons
5.Popup Actions
6.Exit & Behavior Intent Popups
Trust
1.Reviews.  Reviews are a critical aspect of conversion rate optimization for both product and service companies.  A majority of consumers read and trust customer reviews before purchasing products or services.  Having both a good star rating and good quantity of reviews provides social proof to consumers about the quality of your products or services.  Its important to note that not all review sites are equal.  Because there are dozens of websites where your business or product might be reviewed it is important to prioritize your review efforts.  We recommend prioritizing based on which sources get the most visibility or drive the most traffic to your website.  For example if you get 59% of your website visitors from Google organic & paid channels and 13% from Facebook.  We'd recommend prioritizing the improvement of your Google My Business reviews before focusing on Facebook.
Local search queries that have superlatives like "best" or "top" automatically filter out Google My Business listings with star ratings lower than 4.o stars.
2.Testimonials.  Almost all star ratings are coupled with a testimonial.  These positive statements about your company, products or employees should be displayed throughout your website.
Results
1.Case Studies.  
Humanization
1.Photography.  
2.Videography.  
3.Team, Culture & Company.
Discount
1.Discounts, Promotions & Sales.
Conversion Experiments
Conversion experiments are the most challenging aspect of conversion rate optimization.  They require a statistically viable set of data and a substantial timeline to properly test, analyze and implement website elements, landing pages and personalization that yields the best conversion results.  Websites with high traffic should be conducting conversion experiments, while websites with low traffic should be following best practices and using conversion elements to optimize conversion rates.
1.A/B Testing
2.Split URL Testing
3.Personalization
4.Polls & Surveys