TikTok SEO – The Ultimate Guide to Boosting Your Video's Reach and Ranking
Hello Tiktok – Gen Z's favorite search engine.
Prabhakar Raghavan, senior vice president of Google Knowledge and Information says, 
"In our studies, something like almost 40% of young people, when they're looking for a place for lunch, they don't go to Google Maps or Search—they go to TikTok or Instagram.
We keep learning, over and over again, that new internet users don't have the expectations and the mindset that we have become accustomed to. The queries they ask are completely different."

Content creators and businesses are increasingly investing time, money and energy on creating short form educational video content for TikTok. 
Their strategy is simple.
Find the best possible search terms and hashtags for their niche and create search-engine optimized TikTok videos targeting those keywords.
And it's working.
Why use TikTok?
Let's take a look at some numbers.
General TikTok statistics
Suffice it to say, it's been riding high since it launched.
TikTok Users
Is TikTok only for Gen Z or do other age groups enjoy this social platform too?
Let's find out.
Gen Z's truly dominate this platform. 
Studies show, 
419.7 million users aged 18 to 24 (43.3% of TikTok's ad audience)

312.0 million users aged 25 to 34 (32.2% of TikTok's ad audience)

133.5 million users aged 35 to 44 (13.8% of TikTok's ad audience)

67.4 million users aged 45 to 54 (6.9% of TikTok's ad audience)

41.7 million users aged 55 and above (4.3% of TikTok's ad audience)
Millennials are close behind, but the older folks prefer other social platforms over TikTok. 
TikTok engagement statistics
TikTok shopping statistics
Okay, so users love spending time on TikTok. But does TikTok generate leads for businesses? Are TikTok users using this platform to find things to purchase? 
Short answer; YES. 
84% of TikTok users say this social app is a source for them to discover or learn something new. 

TikTok users are 1.5x more likely to immediately buy something they discovered on the platform – which makes it one of the best social selling platforms in the digital sphere.

Compared to other platforms, TikTok is 1.7x more likely to be used as a product discovery tool.

TikTok users are 1.4x more likely than other social media platform users to research products and brands they find on the app. This is probably why big ecommerce and retail giants like Sephora are investing a lot of money creating a strong TikTok presence. 

TikTok users are 1.4x more likely than other platform users to buy a product they find on the app.

TikTok users are 1.5x more likely than other platform users to convince a friend or family member to buy a product they've seen on the app. 

TikTok users are 2.4x more likely than other platform users to create a post and tag a brand after buying a product .

Compared to other platforms, TikTok users are more than twice as likely to comment or DM a brand after making a purchase which shows TikTok's high engagement rates. 

39% of TikTok users say "lifting spirits" is a key factor when deciding to purchase a product.

TikTok users are 1.3x more likely than users of other platforms to feel excited after purchases.
How does TikTok work?
Numbers show that TikTok is fast becoming the most popular social media platform for younger audiences. It was, after all, the most downloaded app worldwide in the first three months of 2022.
At the end of last, Google also lost the top domain spot to TikTok, which shows how powerful this short-form video platform is.
Before we discuss how businesses can use TikTok for marketing and benefit from it, let's learn how the platform works.
This platform allows creators to create 15 second long videos (which when combined can go up to a minute). 
The best part? 
Brands and creators can add oomph to videos with a plethora of editing features, effects and background music. This is essentially why the dance video phenoma took off via this platform.
With dwindling attention spans of Gen Z and Millenials, this app provides the right type of content for the younger folks. 
While initially TikTok focused on purely entertainment content, now businesses, creators and regular TikTokers are using it to create informational and educational content. 
So from a mere entertainment app, it has evolved into a video search engine.
How to create a TikTok profile?
Your search engine optimization efforts are only going to bear fruit if your TikTok profile is optimized. 
Creating a profile on TikTok is super easy. It's probably why everybody and their neighbors are on this platform. 
Step 1 – Create a personal account.
Step 2 – Click the three dots in the upper right corner, and switch your profile to pro account. You can then choose either Creator or Business Account depending on your preference. 
Step 3 – Next, choose the category your business is in and add your business details like website, email address, and so on.
All done. 
Optimizing your TikTok profile
To reach out to a wider audience, increase conversions and generate leads, you need an optimized profile. 
Once people land on your profile, they need to know instantly who you are, what niche you're in, and how to connect with you. 
Create a perfect bio
Your profile bio is the perfect way to introduce your business to new followers. Crafting the right bio, one that boosts conversions and turns virtual passerby TikTokers into followers, is an art.
Some elements of the perfect bio include,
A memorable username

: If you're a business, your profile username should be your brand name, and ideally consistent across all social platforms.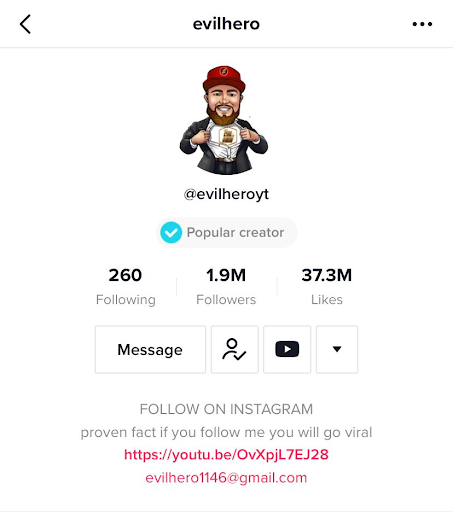 But if you're a content creator, choose a name that users can remember. For example, Maham123 is not as memorable or identifiable as Oh.no.its.Maham. Since your username is going to be on all your videos, choose it with care. 
Link to convert users:

TikTok allows users to add ONE clickable link to their bio similar to Instagram. So use this feature wisely. You can either add a link to your website, or use a Link in Bio service to create a landing page with multiple links. This way you can drive conversions to multiple links.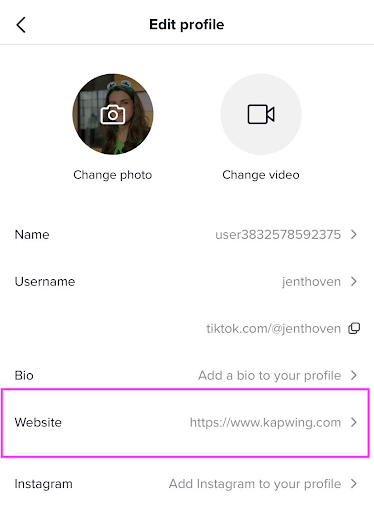 Description:

In exactly 80 characters, describe what your brand does. This is your elevator speech and it should be succinct yet powerful. Instead of talking about what YOU do, describe how others can benefit from you. Try adding emoji to add a bit of oomph to your description. 
And don't forget to add a CTA to your description to get users to click on your link!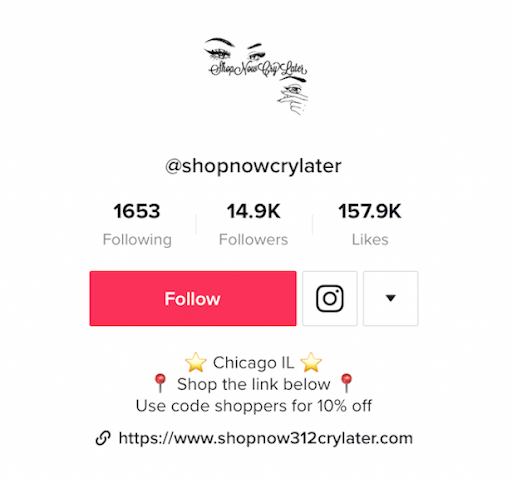 Choose the right picture
Next is your picture. 
This picture is visible every time you engage with other TikTokers, so you need to make sure it stands out and doesn't blend in the sea of other nameless and faceless TikTokers. 
If you're a business, your business logo (which is what you use everywhere else) should be your profile picture. But if you're a content creator or don't have a digital identity yet, create a profile picture that pops.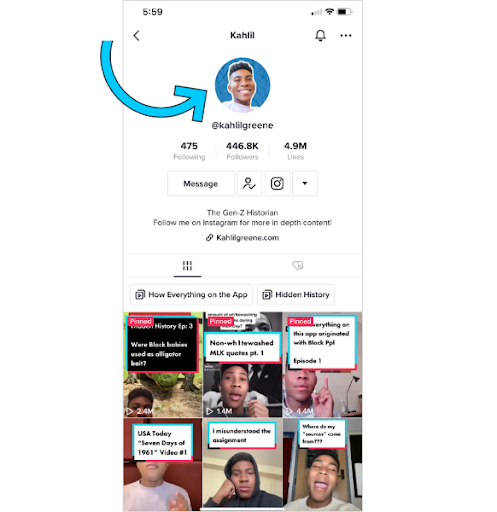 Some tips to help you create a stop-them-in-their-tracks profile image,
Play with negative space

Use striking colors

Avoid blur, low quality images

Don't add too many elements to your image
Connect your social media accounts
If you have a strong presence on Instagram and YouTube, connect both accounts to your TikTok profile. 
This way you can direct traffic to other social channels via your TikTok profile without sacrificing your one clickable link!
How to create TikTok content that gets results?
Becoming a TikTok superstar seems very easy. Create an account, upload a video, and start getting millions of views and comments from the get go.
The reality is a little different.
Yes, TikTok has higher engagement than other social platforms.
And yes, with the right content, there are high chances of your brand content going viral.
But the keyword is the right content.
Since TikTok also works as a search engine, you need to create content that your audience is actively searching for in order to get views and engagement. 
For example, dance videos get seen, but do they align with your business goals? Find out prior to creating content.
The right content depends on,
Your business goals: Are you trying to generate leads, improve conversions, drive traffic to your website, or simply increase reach?

Your audience: More than audience demographics, you need to know what kind of content your target audience engages with. Are they looking for mindless entertainment? Are they looking for product recommendations? Are they more interested in educational content?
Once you have a comprehensive audience persona and your goals are set, you can start creating content for your audience. 
Tip: Don't forget to make all your videos entertaining. Even if they're educational videos, try to make them interesting. TikTok is all about entertaining content, so there needs to be an element of fun in all your videos. Bland videos don't fare well on TikTok (or any social platform, for that matter).
There are several different types of videos you can experiment with on TikTok.
FAQs
Make a list of questions that plague your audience and create a series of short informational videos answering those questions. Since videos are only 15 seconds long, you can have a detailed answer to that query in your captions. 
These kinds of videos rank high on TikTok.
Tips and tricks
A favorite amongst TikTokers, try creating tips and tricks videos regarding your products and services. If you're having a creative block, emulate Buzzfeed's Tasty videos. 
Breaking industry news
Become the go-to person in your field by creating short timely videos on industry news.
Daily routine 
Add a bit of human touch to your brand by sharing short snippets of your daily routine. 
New product or service teasers
Build anticipation around new launches by creating short teasers. 
Videos on trending hashtags
Try turning trending hashtags into opportunities for you to create branded content. 
Mindless entertainment videos
Dances. Mimes. Funny videos. Since they perform really well on TikTok, every once in a while, create similar content to boost views and engagement, and send traffic to your profile.
Use the Q and A feature 
An excellent way to increase conversions, answer audience queries, and gather audience data. 
Tell your story 
#StoryTime hashtag has over 70billion views which shows that TikTokers are very interested in hearing about your personal and brand story. 
Lip syncing
Lip syncing videos do really well on TikTok and Instagram. These lip syncs do not always need to be of movies, they can also be snippets of speeches from famous personalities. 
5 tried and tested ways to create an effective TikTok SEO strategy
TikTok is on fire.
Data.ai forecasted that TikTok would reach 1.5 billion users per month by the end of this year.
Add that to the fact that TikTok is now a search engine and Google has big plans to index Tiktok's video content, and you've got yourself a golden opportunity to convert a massive audience. 
So how can you take advantage of this massively popular search engine? 
Do keyword research
In order to create high ranking TikTok videos, you need to first know what queries your target audience are searching for. The more useful your content is for your audience, the more views it'll get. The more views and engagement it gets, the better TikTok's algorithm will reward it.
Targeting the right keywords in your TikTok videos will not only get you higher reach and engagement but also result in high lead generation.
There are several ways you can conduct keyword research for your TikTok SEO marketing strategy.
Google's auto search tool – One of the best ways of finding the right queries to create video content on is by using Google's auto search tool. Just type your niche in the search bar and it will prompt a list of related queries.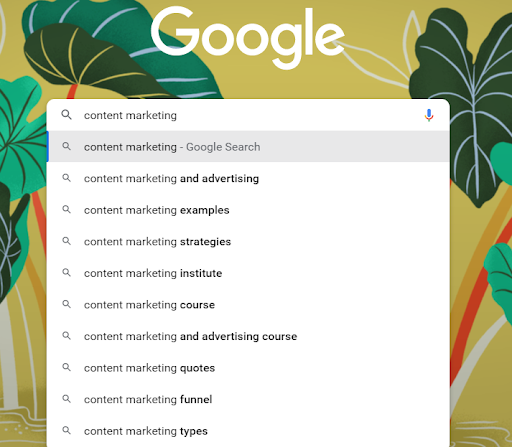 Customers – Running social media live sessions and encouraging followers and customers to ask questions is an excellent organic way of finding out what search queries they'd appreciate video content on. 

 Competitor research – Make a list of your competitors and audit their content. What keywords are they targeting? What kind of content are they creating? Is it working for their audience?

Online communities – Reddit, Quora and Facebook groups are excellent places to get answers from. Join communities in your niche and make a list of questions that commonly come up. You can search keywords in your niche on Quora and Reddit to see what queries are being asked. 
Use hashtags
With Google's plans to index Tiktok videos, it's best to use hashtags as your core keywords. Long tailed keywords that target your target audience's pain points serve even better as hashtags. 
When creating a hashtag strategy for TikTok, keep the following things in mind.
Use hashtags that are popular. Unless you're creating a brand campaign and have a huge following, creating your own new branded hashtags won't show immediate results. New hashtags don't get a lot of traction initially. 
So search for trending hashtags in your niche and use those. 
The best way to do that is by entering your niche or core keyword in TikTok's search engine, and it'll bring up a list of trending hashtags related to that.

You can experiment with industry-specific and generic hashtags to see what gets you the best results. 

Since captions are limited to 100 characters, use 3 to 4 hashtags at max. You'll need the rest of the space for your caption. 

Once you've started getting a little traction on TikTok, experiment with branded hashtags. Run fun branded hashtag campaigns, ask followers to use your hashtags when using your products or services, and conduct giveaways to increase your branded hashtags reach. This is an excellent way to not only keep on top of your branded campaigns but also keep an eye on how your followers are engaging with your brand. 
Engage with other TikTokers
The number one rule to getting traction on any social media platform is engaging on other people's posts. 
Gary Vaynerchuck,  a Belarusian-American entrepreneur, author, and speaker, unveiled his social media growth strategy and called it the $1.80 strategy to grow your personal brand. It basically says the same thing – engage on other people's posts and they'll do the same with your posts. 
The strategy is broken down into a simple 3 step process.
Step 1 – Find leading hashtags in your niche. Identify top 9 posts for the top 10 hashtags keeping in mind the general engagement of those posts. 

Step 2 – Next, engage on those 90 posts every day. Leave a thoughtful comment, send a DM, or even just engage with a commenter on one of those posts. Do it every single day. 

Step 3 – Watch your profile get more followers, engagement, and reach. 
It's really as simple as that. And while Gary V introduced this strategy for Instagram, it shows excellent results on TikTok, as well.
As Gary Vaynerchuck aptly says, "Become a practitioner. Please don't underestimate the social network ecosystem … it's communication. It's not social media.
Communication is fundamentally how the world turns; and I implore this audience to triple down on their efforts of being a written, audio or video communicator on the platforms."
On TikTok, make a list of influencers and brands in your niche and regularly comment on their TikTok videos. Build a relationship with them.
Similarly, follow your followers and engage on their posts, as well, to develop a strong relationship with them. 
Collaborate with creators
Partnering with influencers and other brands in your niche and industry is an excellent way to increase reach and get more views and engagement on your TikTok videos. 
According to TikTok's study, 
"TikTok-specific branded content in collaboration with creators is also more engaging, resulting in higher view rates.
They're,
– Better at capturing attention: Ads created for TikTok without creator partnership achieved 12% higher 2-second view rates and ads created for TikTok with creator partnership achieved 65% higher 2-second view rates.
– Viewers watch longer: Ads created for TikTok without creator partnership achieved 8% higher 6-second view rates and ads created for TikTok with creator partnership achieved 91% higher 6-second view rates.
– Better at connecting with users: Ads created for TikTok without creator partnership achieved 12% higher engagement rates and ads created for TikTok with creator partnership achieved 83% higher engagement rates."
Duolingo, a language learning app, collaborated with Scrub Daddy, the happy face-shaped dish scrubber, on TikTok and saw excellent results. 
While the video on ScrubDaddy saw 1.8 million views and over 10k comments, on DuoLingo the video had over 3 million views! 
Giveaways are another excellent way to collaborate with creators and boost reach. 
When Magic spoon conducted a giveaway with SuperCoffee, they saw unprecedented results!
A 364% increase in comments from their regular TikTok content!
TikTok collaborations can raise your TikTok marketing game massively. When choosing creators for collaboration, keep the following tips in mind.
If you're a niche brand, opt for micro-influencers. Tiktok micro-influencers are influencers with a niche audience and around 50k to 150k followers. Different from Instagram micro-influencers, TikTok micro-influencers are similar to the average TikToker and that's their advantage. TikTokers find them easier to trust and their audience is highly engaged, which works in your favor.

When choosing influencers, don't go only on numbers. Go through the influencers posts and see how much genuine engagement they get. 

Instead of forcing influencers and content creators to create a certain type of TikTok video for your brand, ask them what their audience prefers. They understand their audience and Tiktok's algorithm best – so collaborate with them in all facets to create content that their audience would genuinely like and engage with. 
Master TikTok's trends
Jumping on Tiktok's trends is an excellent way to create content that's guaranteed to do well. 
Before creating content, or if you're in a content slump, go through tiktok's trends or discovery page and go through the hottest trends of that time. 
What kind of videos are going viral? 
What hashtags are they using? 
What challenges are tikTokers currently obsessed with?
Whiele it's not always recommended to use trending hashtags if they're not directly related to your video content, you can always learn from them and see what's working. It gives a human touch to your brand, makes you relevant in the world of TikTok, and shows your followers that you're on top of all the latest trends. 
Tiktok's algorithm favors trending content as well, so following trends is a great way to create viral content. 
Are there different trends for content creators and businesses?
No. Any TikTok trend is fair game to both and whoever does a good job at creating a video using the trend, wins the algorithm for that day. 
TikTok, for example, shared that 2021's biggest trends were Whipped Coffee and a quick and easy skincare routine. 
To celebrate kids going back to school, Tiktok partnered with Barnes and Nobles and started the #BookTokChallenge. They áre encouraging brands and creators to create content around this hahstag to encourage reading and help people discover new books. An excellent hashtag that most brands and creators can jump on and take advantage of.
This hashtag currently has over a 100 million views!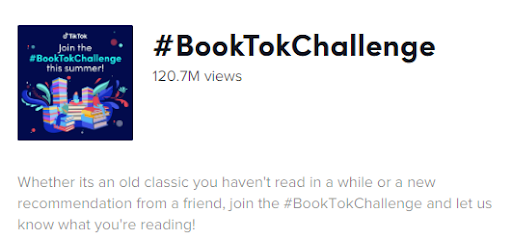 Recently read a book that your audience would love? Do a quick video review using the hashtag.
Have a book you'd like to promote? 
Collaborate with influencers and use this hashtag to market the book. 
There are multiple ways brands can take advantage of similar trending hashtags. Keep an eye on what TikTok is promoting so you can jump on that bandwagon. 
Tiktok is here to stay
After an astronomical increase in popularity in the last few years, TikTok is all set to overtake Instagram and SnapChat especially where Gen Z is concerned. 
Data shows that in 2022 as well, Tiktok dominated the most downloaded app list – and it has no intentions of slowing down. The same study also reports that US spending in TikTok increased 125% quarter-over-quarter – making it one of the biggest social commerce players in the digital world.  
Tiktok is all set to triple revenue this year to $12 billion, leaving Facebook and other social media giants behind.
Brands catering to this audience need to jump on the tiktok bandwagon and devise a TikTok SEO strategy that helps them connect to this audience. Creating content on tiktok is easy. 
But, making it go viral? 
Having it show high up in its search engine? 
And, getting followers to like, comment and share the content?
Very hard. 
What can brands do?
Optimize their profile. 

Conduct keyword research for queries their audience are searching for on this platform.

Use trending hashtags.

Amp up their engagement with other TikTokers.

Collaborate on giveaways and branded content with creators.

And, keep an eye on TikTok's trends. 
Tik Tok is oversaturated with content – to stand out, brands need to up their TikTok marketing game and take TikTok SEO seriously.