75 Instagram Marketing Stats to Boost Reach and Conversions in 2022
October 6th 2022, Instagram will turn 12. 
In these last few years, Instagram has become one of the most popular social media platforms in the digital world. Research shows that it is the 4th most active social media platform and 18.3% of all the people on Earth use Instagram today.
What started off as a photo-sharing application, has now become a powerful marketing tool for over 200 million businesses!
And why wouldn't it be? 
Internet users are quite fond of this social platform and visit it regularly. 
Semrush's research shows that, based on total website traffic, Instagram is one of the world's top 10 most-visited websites globally, with 2.9 billion total visits per month. 
This popular social platform is also the 9th most-Googled search term!
And, Instagram is the second most-downloaded app in the world! 
Just behind TikTok, everyone's favorite video app.
So there's a reason why businesses are increasingly flocking towards Instagram – it's where their audience is. 
So who exactly are Instagram users and how can this platform benefit businesses? Let's find out. 
User demographics
Now let's discuss the genders. Which gender uses Instagram more?
Interestingly, both genders are equally invested in Instagram and all that it has to offer. 
Research shows, 
48.1%

of Instagram's global users are female

51.9%

of Instagram's global users are male
What about age groups? 
Millennials, Gen z, or Boomers? Who makes up the largest slice of this pie?
User usage
Instagram for business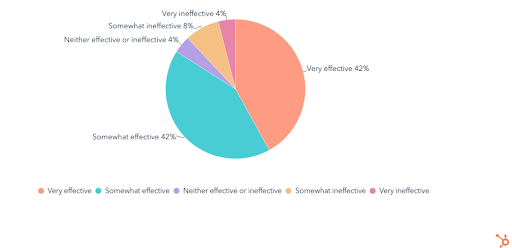 What is the average engagement rate for posts on Instagram? 
While it varies greatly depending on your content, your industry/niche, your audience, what time you post it on, and so on, a general study showed, 
Sprout Social found that, 
The

best times for businesses to post on Instagram

are Tuesday 11 a.m.–2 p.m. and Monday through Friday 11 a.m. 

The worst day to post is Sunday.
Let's discuss influencer marketing now. 
How can businesses start using Instagram for marketing?
Here's how.
Step 1 – Create a comprehensive profile
From your business details (including website and preferably Google Maps location if you run a brick and mortar shop, as well) to your profile picture, everything on your profile should be thorough and in line with your brand identity. 
Make sure the details are similar to your other social profiles. 
Step 2 – Build a cohesive feed
Your feed is the first thing users see when they land on your profile.
The more cohesive and pleasing to the eye it is, the higher the conversions. There are several themes you can choose from when creating your feed.  
Warby Parker's feed is a great example. They make sure to sprinkle their brand color (warby blue) throughout their feed to weave all the posts together.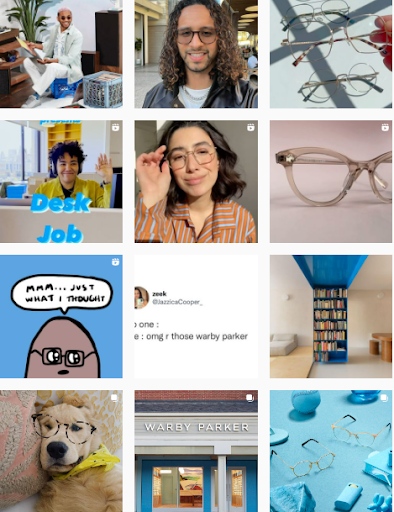 Step 3 – Focus on creating video content
With the advent of Reels and other video features on Instagram, marketers and creators are seeing great results with video content. 
Businesses can create content around,
Tips and tricks in their niche

Interviews with brand owners, influencers, industry experts

Short DIY videos akin to Buzzfeed's Tasty videos

GIFs

Memes 

Behind the scenes
Use Stories (especially its interactive features like stickers, polls, sliders, etc) to engage with your audience. Use Reels and IG videos to educate and entertain your audience. 
You can also leverage user-generated content. Create a brand hashtag, a USG campaign, and ask users to post content with your brand hashtag. After seeking permission, you can use that content on your feed.
Instagram hashtags
Generic Instagram hashtags like #love (678,611 occurrences) and #photography (635,149 occurrences) are still the most widely-used.

The amount of hashtags you use on your post does not affect your post performance so you can experiment.
Instagram video
Instagram Reels
Reels, created to compete with TikTok, were introduced in 2020.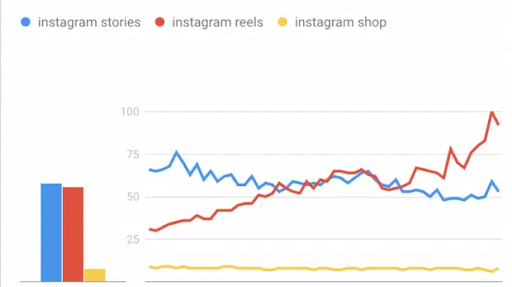 Nike averages

4.6 million views per Reel

.

Meta reports that

53.9% of Instagram Reels ad audience

share is male, with 46.1% females.

Instagram Reels ads reach 10.9%

of the total population (aged 13+).
Case Study
Plant, a gardening mobile app, decided to create Reels to promote their app. Their main goal was to increase app installs, boost reach, and encourage users to subscribe for the free trial.
The result?
3X lower cost per trial subscription with Reels ads
26% lower cost per 1,000 views with Reels ads
31% lower cost per app install with Reels ads
Instagram Ads
Case Study
rom&nd, a south korean cosmetics brand, experimented with dynamic ads to promote their products to their target audience. They added product tags to their dynamic ad posts and encouraged viewers to click on the product tags, which would take them to their Instagram shop. 
The result?
1.6X increase in purchases from dynamic ads with product tags compared to dynamic ads without
2.5X return on ad spend from dynamic ads with product tags
How can businesses advertise on Instagram?
With Instagram's dwindling organic reach, businesses need to use paid advertisements on this platform to reach their target audience and convert them. 
There are several different types of ads you can run on Instagram.
Photo ads:

In this, businesses use a single image to promote their services or products. The image can have text overlays and other illustrations to make it pop. 

Video ads

: As the name suggests, businesses can promote their brand on Instagram by using a video. Videos work better than photos because they can cover a lot more content. There are several different types of video ads that businesses can invest in including Reels ads and IGTV ads.

Carousel ads:

Carousel ads consist of multiple images that users can swipe through. These work excellent for products-based businesses, where marketers might need to promote multiple products or show their product range to their target audience. 

Ads in Explore

: With m

ore than 50% of Instagram users

accessing Explore every month, businesses can choose this ad type to ensure their content is displayed between trending content. 

Stories ads:

Instagram Stories ads are full-size images or videos that appear between Stories. The best part about Stories ads is that you can add interactive elements to your Stories for higher engagement and conversions. 

Shopping ads:

The newest feature to hit Instagram, Instagram shopping ads make it super easy for businesses to target their audience and encourage them to convert without leaving the app. Interested viewers can view the product, get all the details, and checkout directly.

Collection ads:

A hybrid of carousel and shopping ads, collection ads allow users to buy directly through the ad.
When selecting the best ad type for your brand on Instagram, consider the following things.
Your goal
Are you looking to boost conversions or awareness? 
Do you want to increase your Instagram followers or drive more traffic to your website?
What kind of results are you thinking of achieving with your paid advertisements?
Your audience
In several countries, Reels are still not available. Similarly, there are some features that are available in some places, and unavailable in others. So before choosing the ad type, be crystal clear on your audience. 
Who are they? 
Where do they reside? 
What kind of content do they enjoy consuming? 
Your organic content
And lastly, what kind of content sees the best results on your feed? Do users engage most with your interactive Stories? Do they comment and share your Reels videos? 
Go through your organic content results and choose ads accordingly to them.
Instagram Shopping
With more than 130 million users tapping on Instagram Shopping posts each month, businesses serious about boosting conversions need to create perfectly cataloged Instagram shops. 
What are Instagram shops?
It's an mCommerce strategy businesses use, where Instagram users can view products, read details about them, and purchase them all without leaving the app. 
A digital storefront of a brand. 
Some common features of an Instagram shop include,
Product detail pages – These are pages where you list down all the key details of your products, including adding professional pictures of your products. When you tag products in your Instagram posts, Instagram will pull this information to present to viewers. 
Collections – Like the name suggests, you can group together similar products in collections. This makes it easier for users to browse through your product line and look for products that they need. 
Checkout – Still rolling out globally, checkout lets users purchase your products without leaving the app.
Once you've created your Instagram Shop, you can start tagging products in your Stories and feed posts. Instagram allows upto 5 product tags per post. If you're using user-generated content, you can tag both the user and the product shown in the picture, as well. 
Similarly, you can leverage Instagram Live and tag your products during Live sessions. Engage in real time with your audience, show them your products, and allow them to easily purchase the products without having to leave the app. 
Instagram Shopping ads are also available to businesses with IG shops, which helps boost conversions. 
Conclusion
Instagram is here to stay.
If you still haven't jumped on this bandwagon, now's the time.
About JEMSU
JEMSU is a Boise SEO & Los Angeles SEO agency.  We provide comprehensive search strategies for small and large businesses.