10 Easy Tips to Improving Local SEO Strategy for Your Business
When customers are looking for local businesses near them, how do they find them?
By Googling 'local xyz business near me', or some variation of this search query. 
GIF – https://giphy.com/gifs/john-oliver-google-it-QVxeI5qhmlXAkqaAro
Google's survey shows that the search for the phrase 'near me' doubled in 2020'.
If you're a service or product based business, serving a local audience, you need to have a robust local SEO strategy in place for your business. This is how your business will show up high on search engines.
Research shows that roughly 97% of people who use online search look for local businesses.
And which listing are they going to click on when the search results pop up?
A quarter of them (24.4% to be exact) are going to click the top search queries that show up. 
So by having a strong local seo strategy, you're sending troves of targeted, interested, and organic audience to your website. 
Other benefits include,
Increased brand awareness. If you're a relatively new business, you want to make sure everyone in the area knows you're up and running. 

Getting more customer reviews. The more customers you get online, the more reviews you can potentially get for your website, GMB listing, and social profiles.

Helps in getting more localised backlinks, which in turn helps improve your search rankings. 
How can you improve local seo strategy for your business?
By incorporating these easy 10 tips. 
Claim your Google My Business Listing
If you haven't claimed your GMB listing, now's the time to do so. 
Google My Business is a free business listing feature of Google. It allows businesses to list key information about their business and makes it easy for the audience to find relevant businesses.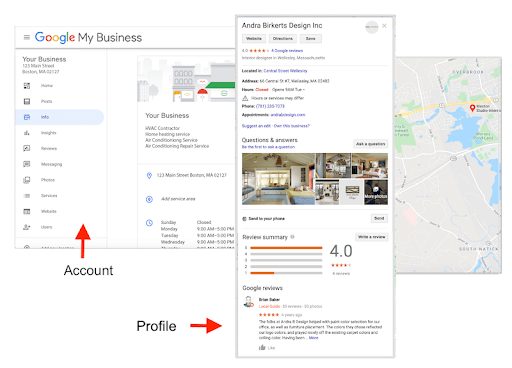 This works only for businesses that have some form of contact with customers, not purely online businesses. 
Bright Local's survey showed that '64% of customers use the phone number listing in Google Business Profile panels to reach out to local companies.'
How to set up your Google My Business listing?
Choose your Business Category.

Add all the details about your business – your physical location, your contact information, website, etc. Be as thorough as possible, and double check all the details you're providing. 

Verify your listing. 

And finally, add all the other important details about your business. This includes business hours, logo, messaging preferences, business description, and photos.
Don't forget customers are 2.7 times more likely to consider your business reputable if you have a complete Google Business Profile! So add all the required details and update your profile regularly. 
A few tips to optimise your GMB listing,
Add pictures and videos of your products, services, physical outlet, employees working, behind the scenes, etc. Picture and video quality say a lot about a business, so take professional-quality pictures!

Add relevant keywords to your profile to make sure it ranks higher. More on that in that next point. 

Encourage customers to leave positive reviews on your listing!

Make use of the Q and A section of your listing. Make a list of FAQs and answer them in that section. Also, ensure timely response to potential customers' questions. 
Determine keywords you want to rank for
Keyword research is the process of finding words and search queries your target audience is using to search for products and services your business provides.
For example, if you're in the automobile industry and provide car washes as one of your services a key keyword for your business will be 'car wash'. 
Keyword research is critical to improving your local search rankings as it sends targeted audiences to your website. It also helps you understand your potential audience and create personalised content that speaks to them. 
How do you conduct keyword research?
Make a list of all the services and products you offer. As a local business your location is also a keyword you want to rank for. So instead of just 'car washes', you want to also rank for 'car washes in Houston'. 

Use Google. Google is one of the easiest ways of finding the keywords your target audience is using. Just plug in your seed keyword and make a list of SERPs that appear. 
For example, when you search for car wash on google, search results like the following come up.
Car wash shampoos

Car wash machines

Car wash cost
Use paid and free keyword research tools like,
The learning curve in these tools is a little steep, but the insights and data they offer can be very beneficial for businesses serious about SEO. 
Audit your website
Chances are you probably already have a website so the first thing you should do is run an audit of your website. 
Why?
Because one bad experience can be enough to turn a potential customer away from your website. 
Studies show that 88% of online consumers are less likely to return to a site after a bad experience. 
Conducting an SEO audit of your website can help determine if your website has any of the following problems.
Slow website loading speed. According to a study by

Portent

, '

website conversion rates drop by an average of 4.42% with each additional second of load time (between seconds 0-5).'

Missing page titles and meta descriptions.

Broken links. These links contribute to a user's bad experience and can also negatively impact your search rankings (if there are too many of them!)

No XML sitemap. If you have a large website, an XML sitemap will have a positive impact on your search rankings. 

Poor indexation.

Poor mobile optimization. In 2020 alone,

68.1% of all website visits

came from mobile devices!
Implement on-page SEO
On-page SEO strategy refers to the process of optimising your website pages to improve your search engine rankings. 
Just like you want your GMB listing to pop up when people search for your targeted keyword, you also want your website to show up high in search engines. 
Once you have a list of keywords you'd like to target, tweak the following areas of your website.
Title tag

: Title tag is the HTML tag of each of your web pages.

Meta description:

Meta description plays a crucial role in boosting search engine rankings. In search engines, meta descriptions are usually displayed under the title of the page. So not only should they contain the right keyword, but they should also succinctly explain what the web page is all about. 

Blog post headlines and header tags:

If you create content for your website blog on a regular basis, make sure to optimise the headlines and header tags (H1 – H6)  with the right keywords. 

Image optimization:

Having a visual rich website is key to high conversions. But you need to ensure all the pictures are optimised (bulky images can slow down a website which can hamper conversions) and contain the right keywords in their title and alt text. 
Add location pages to your website
Location pages are pages that contain your business information. If you're a brick and mortar store, that includes your contact information – phone number, physical address, email address. 
To further help your potential customers, it's a great idea to add your business hours, store description, business description, a list of services and products you offer, your social profiles, parking information, and any and all promotions you're running. 
If you can add a Google Map to your website, it's even better!
You can also create a Contact Us page and provide your audience with either a short form they can fill in before visiting, or a Message Us section where they can directly ask any queries they may have. 
However, avoid duplicating content for the sake of adding multiple pages!
Tip: Your social media profiles, your GMB and other local listings, and your website should have consistent information. 
Make your website mobile friendly
Did you know,
In today's day and age, making your website mobile friendly is critical. 
The first thing you should do is check how mobile friendly your website is. For that, go to Google's Mobile Friendly Website Tool and enter your website URL.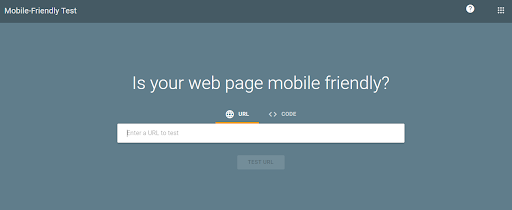 Once you have a basic idea of how much you need to improve your website, here are a few areas you can tweak to make your website more mobile friendly. 
Make your website responsive. This allows your website content to be resized, rearranged, and optimised according to the device it's being viewed on. 

Make information easy to find. Use layman-friendly language. Add signs and symbols to help users navigate the website easily. Don't distract users with multiple CTAs. 

Avoid pop-ups. 

Improve website speed. A few ways you can do this is by compressing your images, using

AMP

, and using a reputable hosting provider. 

Make your buttons and CTAs large enough to be easily viewable on mobile screens. 

Regularly test your device to see if it's mobile-friendly. 
Create local content 
To boost your search engine rankings (and beat your competitors), you need high-quality local content. 
Bloomfield Dental Designs managed to up their organic visibility by a whopping 300% after they incorporated local content in their local SEO marketing strategy!

Local content provides several benefits for businesses.
Helps to boost search engine rankings.

Increases conversions.

Establishes your authority in the niche. When a potential customer searches for car wash, which website is he going to choose and trust? One with blog posts about car maintenance, pros and cons of different car wash services, and other informational blog posts? Or one that simply shows the business's contact information? 

Builds a strong relationship with the audience.

Keeps you in the forefront of your target audience (especially when you're repurposing website content in the form of social media content)
How can you create rich local content?
First and foremost, make a list of FAQs and answer them in the form of blog content. You can further repurpose them and add them to your GMB listing, social media profiles, and even start a podcast!

Host local entrepreneurs, industry influencers, and experts in your niche on your blog. Conduct Q and A sessions with them and add the transcript to your blog.

Create educational content for your audience.

Sprinkle local keywords (for example, your location, keyword + your location, etc.) throughout the blog post.

Cover local events on your website blog. 

Add case studies, testimonials, and reviews of your customers.
Work on local link building
Local link building is one of the most prominent factors of ranking online.If you're new to SEO, links can seem intimidating! 
But it's a very simple concept, easy to use and critical to boosting your search engine rankings.
Local link building refers to the process of getting links from other businesses. They can be in the form of website links, brand mentions, or even references from other businesses. The difference between regular links and local links is that local links are from location-specific sources. 
In easy words, other businesses will send traffic your way by mentioning you in their content and adding a link to your business. 
How do you create a local link-building strategy for your business?
Claim local business directories listings
Just like GMB, there are other local directories, like Yelp, you can upload your business details on. Search for prominent local business online directories in your area and submit your business details.
This tactic not only helps you get traffic, but also improves your website's link juice (which in turn helps improve organic ranking on search engines). 
  Get featured on local press
Try to get your business featured by the local press. Build relationships with local journalists and media houses, engage with your local media on social media, be active in local events, and be proactive in finding ways to get featured on local press.
Offer local sponsorships and help out in the community
Make a list of schools and colleges in your area and see if you can offer some sort of scholarship. Schools and colleges are keen to promote these kinds of activities so this will also help you get exposure and links back to your website.
Collaborate with other local businesses
Seek collaboration opportunities with local businesses in your industry. Choose businesses that offer a complimentary service or product. This way you can both help each get links, increase reach, and ultimately get sales, too!
Optimise social media profiles
Chances are you've already created profiles for your business on social media. Now you need to optimise them. This will not only help you get links back to your website, increase your reach, but also legitimise your business. 
The first thing you need to do is make sure your social media profiles have complete business details – this includes your contact information, a link to your website, your business hours, etc. Adding a link to Google Maps is also an excellent idea!
Keep information across all social media platforms consistent.
Next, update social media regularly with interesting content.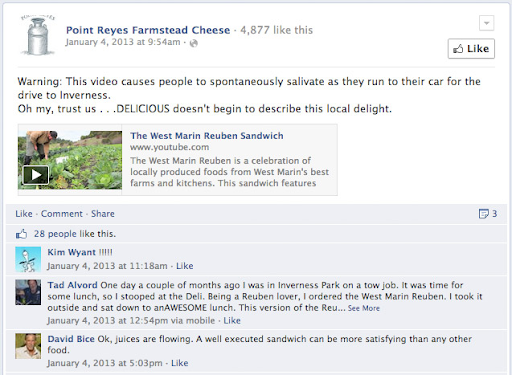 You can create educational content around your industry, highlight local events, answer FAQs, create funny memes that your audience can relate to, conduct live streaming sessions, and every once a while promote your business, too!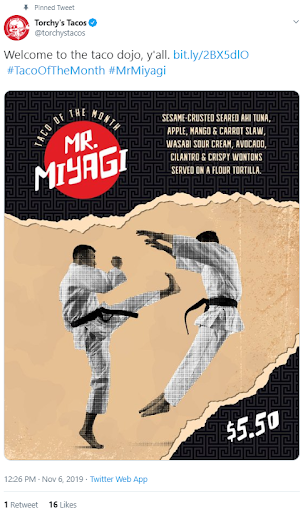 Collaborate with other local businesses, local influencers, and industry experts on social media to further increase your reach and get backlinks!
And lastly, track your social media efforts consistently to determine which social platforms are getting you the most traffic and links. 
Use social listening tools
Social listening tools help you track audience sentiment about your brand. 
Are people liking your brand? 
Are they hating it? 
Do they have complaints that you can resolve? 
Are they writing positive reviews for your brand that you can amplify?
Social listening tools are excellent for conducting customer research, responding to negative reviews, sorting out any problems your customers might be having, determining industry trends, keeping track of any and all brand mentions, and spying on your competitors as well!
Embed: https://twitter.com/Zappos/status/1484335789425131522
Some social listening tools you can invest in include, 
Wrapping up
If you have a physical brick and mortar store and you're selling to a local audience, you need to amp up your local SEO strategy. To keep a stream of customers coming in, to keep an eye on industry trends and audience sentiment, to attract a massive online audience, you need a solid online presence. 
Google survey shows that "76% of people who conduct a local search on their smartphone visit a physical place within 24 hours and 28% of those searches result in a purchase."
So meet your customers where they are and improve your local search engine rankings by following the 10 easy tips we've shared in this article!