How to Choose a Blog Topic for Ranking AND Driving Traffic
Blogs have been around since the late '90's and their purpose has shifted quite a bit ever since. Truncated from "web log," blogs' main purpose back then was to read like a diary. While some blogs still operate as such, most blogs nowadays are a best practice and seem almost like a necessity for any website, no matter the nature of the site's content. While it might seem like you should have a blog because, well, every site seems to have one, your blog can be a huge traffic driver, no matter the industry. 
You might wonder how a dumpster rental company, plumber, or even a roofer can have engaging enough content to not only get a blog ranked but drive traffic, engage readers AND drive leads. We'll explore ways to generate topics and content that rank, drive traffic, and keep your readers engaged, all while keeping your brand top-of-mind. 
Blog order of operations
You need to get a blog ranked at least a little to drive traffic that keeps users engaged (and sometimes taking an action on your site). It's important to remember, a blog does not require a call to action. It's OK to only educate your readers. You're providing free insight that resonates well with readers and hopefully keeps you top-of-mind. But it's always nice to drive some leads. Remarketing after they've hit the site and/or setting up some exit-intent lead capture can turn that traffic into leads. Putting the horse before the cart, first up in this order of operations: picking a blog topic. 
Picking a blog topic/title
Some business-specific blogs update readers on company happenings like new employees or acquisitions. While this is great for keeping up with the current times, it doesn't tend to generate a lot of organic traffic via the search engine results page (SERP). If you want to generate some organic traffic, it's best to answer questions or mimic search patterns to capture attention in the SERP. It's best to assume that your blog topic is something people are searching. For example, "A Day in the Life of a Plumber" might chronicle a typical plumber's process and how it affects the customer, but the title of the blog doesn't suggest this. 
With that being said, titles of blogs don't have to be exactly what we presume someone is searching, you can still be creative. But getting close to what they might search is helpful. Here's an example:  'How to Use Machine Learning for SEO.' This title might be something people directly type in as if they're asking Google. Others might type in 'machine learning SEO.' Either way, this title still caters to both. 
Sometimes, you don't know what you want to write about and need a jumping off point. Here are 4 great ways to generate blog topics:
Google Search Console – GSC shows all queries that your site shows up for (not just the ones that you're optimizing for). This can be handy for understanding where you rank on some keywords and phrases whether you like it or not. Once you see your rank on frequently searched keywords/phrases, you can reach for that lower hanging fruit and create a blog around it. 

This image of one of JEMSU's queries found in GSC shows a keyword that we don't quite hit the first page for but we get quite a few eyes on. We could write a blog on this topic to get closer to the first page and get more eyes on our site. 
Knowledge accordion – This is a knowledge accordion from Google's SERP: 

It shows frequently asked questions of users (this was triggered from "rent a dumpster" SERP). To find some blog ideas, tinker around with the SERP and type in some relevant keywords and phrases to your business. The knowledge accordion will appear and show you what people are searching in relation to you/your query. Note: it's important to see what business or site already owns that question. For example, if you're a dumpster rental company, you might not want to put the effort into trying to outrank Waste Management. It is important to remember, that when people are looking for answers to questions, they'll dig a little deeper. So while you might not be able to outrank that big brand, at least you can live on the first page in case someone digs further for the answer they're looking for! 
AnswerThePublic.com – When in doubt, have a tool do it for you.

AnswerThePublic.com

is a great tool that shows you frequently asked questions related to the keyword you type in: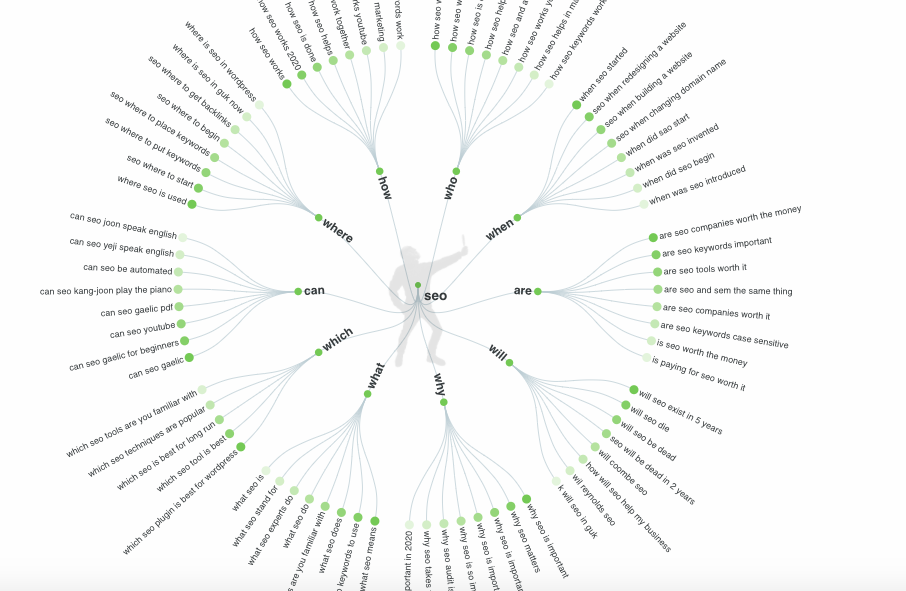 Try searching the questions this tool spits out and see who shows up – is it attainable? 
Gather influence from competitors – We're not saying you should copy your competitors for many reasons (duplicate copy being one of them), but their content can provide some insight and show you the framework for what needs to be outdone.
Your blog content doesn't need to be 100% related to your industry or line of work. It's OK and even encouraged to cast a wide net. At a certain point, you start to plateau on organic traffic growth for keywords you've ranked on the first page for. Blogs allow you to reign in some of those longer-tailed keyword searches, even those that aren't directly your line of business. For example, perhaps you rent dumpsters. You can write some blog content around at-home construction tips and tricks. Sure, those reading up on construction aren't exactly thinking about the clean up right now, but they will be eventually. You're keeping yourself top-of-mind and getting them on your site.
Ranking
How long should my blog be? How many times should I include my keywords?
Now that we have some ways to generate blog topics, we need to get to writing. There's no golden rule to how long a blog should or should not be. Of course, you'll want more than a few words, but Google doesn't exactly notify the public of what it's looking for when manipulating their system. A good rule of thumb, write naturally and work keywords in later. You'll find your keywords naturally work themselves in. The most recent major Google algorithm really favors credibility, and what better way to show you're credible than creating loads and loads of content?
The most important thing to remember: keywords should be going into your H2 and H3 headings. While headings are a great way to break up content, they're an even better way to optimize for a particular keyword. 
Don't always rely on that SEO plugin
We all know and use some SEO plugins to help keep as close to tip-top on our SEO as possible. Plugins like Yoast take a look at blogs in addition to static pages of any site it's installed on. It's good to take nearly anything any SEO plugins say with a grain of salt, especially when it comes to blogs. Plugins can be rudimentary and often become outdated compared to Google's most recent preferences. For example, it will simply check for some exact match keyword density and give you a poor score with what it assumes the keyword is based on the rest of your site content. Sometimes, blogs aren't always about your site's main keyword focus. Sometimes, the plugins might tell you your blog is too short. Don't be offended if the plugin says you're not doing well, you're doing just fine.
Create Engaging Blog Content
We've already pointed out that the best way to attract and keep readers is to give them some valuable-to-them information. They're probably not very interested in company happenings and more interested in some solutions to their problems. Listicles are a bit outdated and short-form content that isn't great for SEO but people love them so much because they're easy to read. Make sure to section out your content into sections with relevant headers (bonus SEO points for putting keywords in the headers). This way, the reader can jump around and find what they need so they don't attempt to digest a wall of content only to give up two lines in. 
Earlier we mentioned offering solutions to problems. Be sure to remind the reader of their problem and how to fix it, including how your business can help. Be sure to balance plugging your business and solutions other than "use our business." If a blog reads too salesy, you risk losing readers before an action has been performed. 
When in doubt, remember Google tries to provide the best user experience by presenting relevant, topical information to their query. Keeping this in mind can really help rank, drive traffic, and keep readers engaged to the very end. 
Linking
Internal and external linking is very important when writing your blogs, especially if you want them to rank. Internal linking means to link to other parts of your website while external linking means to link to another site. Google doesn't recommend linking more than a hundred times in a blog, but a few will create an informational hierarchy that not only helps your SEO but your readers too. We've all experienced a writing block. But when trying to reach a word count, those blocks seem to get in our way more and more. Linking is a great way to generate more content in your blog too! 
Images 
Every blog should contain an image or a graphic. It keeps readers engaged and helps them jump around for short explanations they may be looking for. It's important to not saturate your blog with so much imagery that load times are affected. Slow load times = high bounce rates = poor traffic = bad rankings = poor traffic = bad rankings, so on and so forth. 
You can alleviate this problem pretty easily by saving your images as .jpgs to condense as much as possible. 
Retroactive Blog Editing
Don't feel discouraged if you have an arsenal of blog content that has accumulated over the years that don't practice these principles. It's encouraged to return to previous blog posts and optimize from time to time.. Make a simple change or two in your blog and republish. It won't edit the publish date on your site but it will change the publish date on Google, and Google loves fresh content.
Create traffic reports for blogs and monitor their traffic regularly –– sometimes a small spike in traffic can signal a need for optimization for a larger spike later. Titles can be edited after the fact and blogs can be submitted to Google for crawling and indexing. 
Blogging doesn't have to be difficult. A few small principles applied to a new blog or some simple changes to existing blogs can really help rank, drive traffic, and keep readers engaged.
As always, JEMSU is happy to provide feedback on blogs or any of your current marketing structures. Give us a call or drop us a line!