7 Tried and Tested Ways to Grow Your Business on LinkedIn in 2022 And Beyond
Did you know LinkedIn is growing at the rate of two new sign-ups per second?
Launched in 2003 (fun fact – 5 months before Facebook and YouTube), LinkedIn has now become one of the most powerful networking platforms for professionals. Whether you're a small business owner, CEO of a Fortune 500 company, or a freelancer – LinkedIn offers a plethora of opportunities for you to thrive professionally.
Before we dive into the many benefits it offers, let's look at some numbers.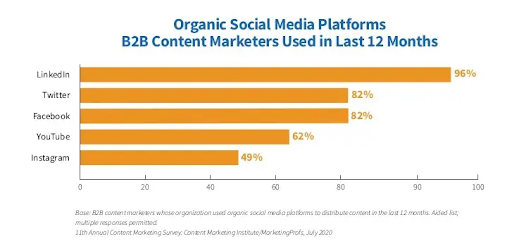 And lastly, according to Sprout Social, businesses marketing on LinkedIn generate 277% more leads on average than those engaged in Facebook marketing alone. 
Suffice it to say, if you're looking to grow your business, you cannot afford to miss out on LinkedIn marketing. 
Personal profile vs Company pages – How to get started on LinkedIn? 
When you're just starting out on LinkedIn, there are two kinds of profiles you can create – a LinkedIn page for your business and a personal profile. 
A personal profile on LinkedIn offers a lot more opportunities to grow. You can build your network by connecting with people from the industry, send direct messages, and engage with prospects. A personal LinkedIn profile also works as an online resume – you can add details of your work experience, your educational background, whether you're open to receiving new work opportunities and even display recommendations from clients. 
A Linkedin company page is an important part of LinkedIn marketing, too, especially if you're a business owner. A company page allows you to broadcast important information about your business to your followers, list your employees, advertise, and post job vacancies.
And with over 55 million registered companies on LinkedIn, if you'd like to establish your authority on this platform and make your business look legitimate, you need to have a company page. 
How to create a personal profile on LinkedIn?
If you're new to LinkedIn, start with creating your basic profile. You can always tweak your profile as time goes on, but you need to ensure all the basics are in place. 
Step 1 – Add the basic information. 
Provide your active email address and fill your profile as best as you can.
When creating a LinkedIn profile, you have two options – opting for a basic profile (that's free) or paying for a premium version. If you're just starting out, it's recommended to build a basic profile. 
But if you're already an active LinkedIn user or would like to amp up your LinkedIn growth, you can always opt for the premium version.
Step 2 – When filling your LinkedIn profile, don't skip the photo section. 
Add a professional shot of you to increase your chances of getting new opportunities.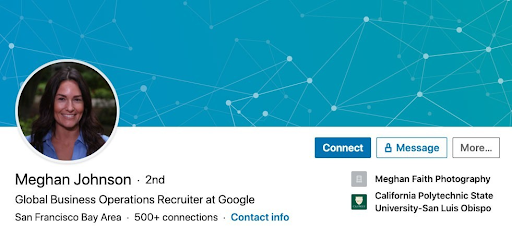 Source – LinkedIn
Statistics from LinkedIn show members who include a photo receive up to 21 times more profile views and up to 36 times more messages.
A few tips to remember when choosing the right picture for your profile:
Use a high-resolution picture. Blurry, grainy pictures leave a really bad impression of people so avoid them at all costs. Selfies are also a big no-no.

Avoid a cluttered, distracting background. You want your background image to compliment your profile picture, not take attention away from it. 

Make sure your face takes up to 60% to 70% of space in the frame. Your face should be clear and visible to everyone – even on mobile devices. 

If you have multiple social profiles, using the same profile picture is a great way to ensure brand cohesiveness.
Step 3 – Talk about your experience, education and list your skills
This is where you get to sell yourself – list your education details, add your relevant work experience and describe your responsibilities. 
Next, add your skills. The more skills you can list, the better. LinkedIn allows users to list up to 50 skills so make good use of this. While they seem inconsequential, skills can easily make or break your profile. 
According to LinkedIn, users with at least five skills on their profile are contacted 33 times more often by recruiters and other LinkedIn members, and receive 17 times more profile views. 
Step 4 – Add an eye-catching headline
Now's the time to practice your copywriting skills. 
Make the headline short but impactful. It should tell potential employees, clients and customers what your work is all about. Even if you're currently unemployed, you can still be smart and add a snappy headline describing what you used to do. 
Just don't do this.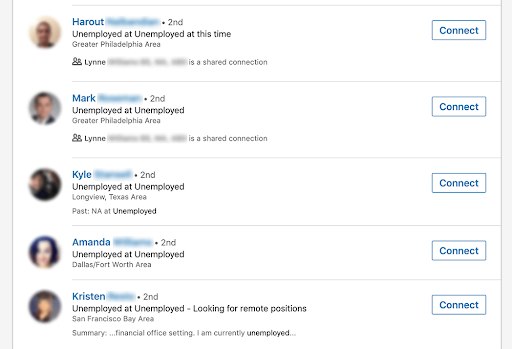 Some great headline examples include,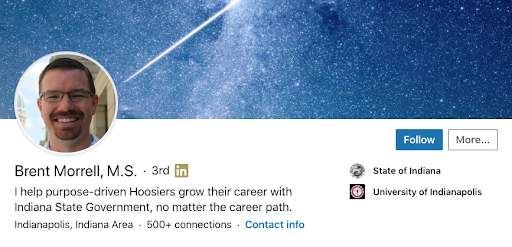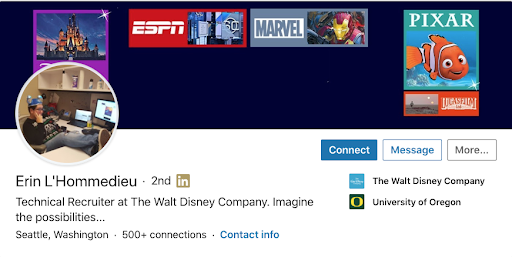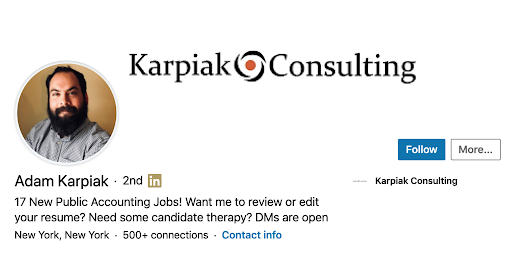 Source – LinkedIn
Don't forget to make your 120 characters count. 
Step 5 – And lastly, request recommendations from colleagues and employers.
Recommendations are a great way to show potential employers, clients and customers that you're a genuine person. 
As Steve Wang, a former human resources representative and now hiring manager and recruiter, says, "LinkedIn recommendations act as proof that the skills and credentials on an individual's profile aren't simply made up or exaggerated as an attempt to appear more qualified than they really are."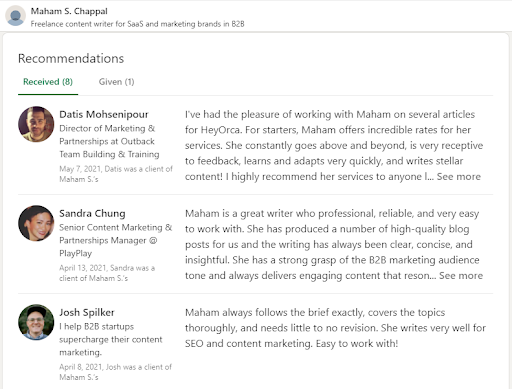 Once you've filled your profile comprehensively, start sharing it on your other social platforms and connecting with people in your industry.
How to create a LinkedIn business page?
If you're a business owner and have a company that you'd like to promote on LinkedIn, you need to create a LinkedIn business page. 
After all, according to  HubSpot, LinkedIn is 277% more effective at generating leads than Twitter and Facebook.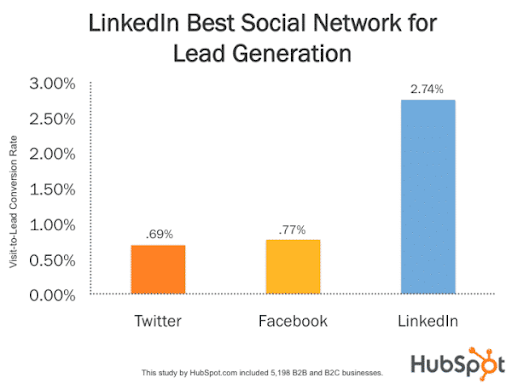 Creating a LinkedIn company page is super simple. 
Step 1 – Create the page
Go to the Work option on the top right corner of your profile, then click on the Company Page option.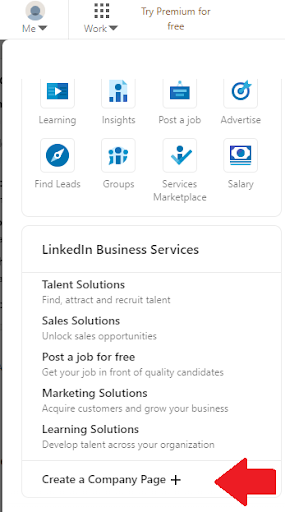 Step 2 – Now choose your company size
How big is your company? How many employees do you have? 
LinkedIn asks you your company size and you have to choose between small business (less than 200 employees), medium to large business (more than 200 employees), Showcase page (for an existing business page), or Educational institution (for schools and universities).
Choose the correct option for your company.
Step 3 – Fill out your profile
Be as thorough as possible when filling out your profile. According to LinkedIn, companies with complete information see 30% more weekly views.
Add your company name, website, industry, company size, and company type. Next, add your company name, a profile picture (which is usually your company logo) and a tagline.
A tag line is very important and works as your business's elevator pitch. Be succinct but informative. A good practice is to ensure all your social profiles have the same tagline for brand cohesiveness. 
Here are some excellent tag-lines to inspire you.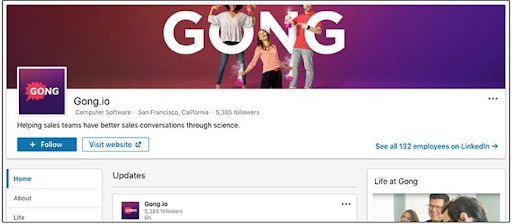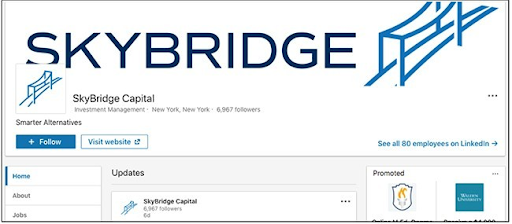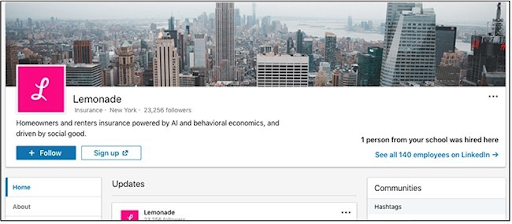 Step 4 – Make your About Page as engaging as possible
This is the part where you tell viewers, potential employees, and other interested users what your business is all about. While it's important to mention all the important details of your business  – like when it was founded, what it does, what services or products it provides, who it caters to – it's a good idea to do it with flair.
Add a story about your business. It could be a short paragraph on why you started, or the causes you support. 
Here's a simple, yet engaging About Me section by Warby Parker.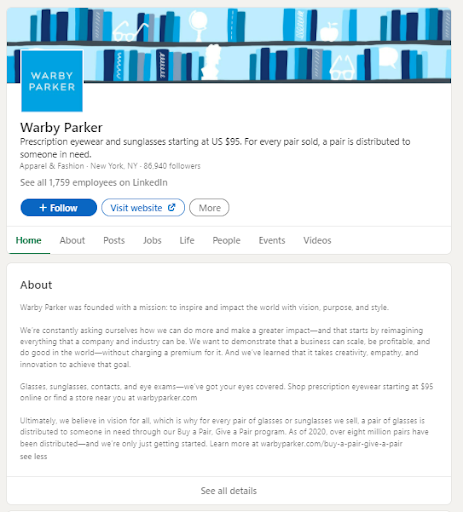 Step 5 – Work on your employee list
Even if you have just two employees, list them on LinkedIn. This gives credibility to your business and allows potential cross-promotion activities. It also works as a social proof and shows potential employees that you're a legit company. 
Step 6  – Don't skip out on your location and other contact details
You can also add multiple locations to your business page. This makes it easy for potential employees to apply for job opportunities. 
Step 7 – Pay special attention to your cover picture
A cover photo is shown on the top of your profile, right above your profile picture. Don't forget to make good use of this important real estate. You can even change it up if you're running special deals, conducting or participating in different conferences, or if you'd like your audience to know about something special happening at your business. 
Like Bynder does here.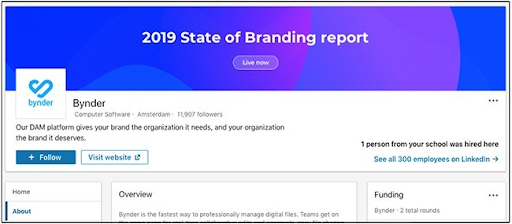 Since it's the first thing people see when they land on your company page, use it wisely. 
A few points to consider when choosing the right cover photo for your LinkedIn company page,
Make sure it doesn't clash with your profile photo or logo. It needs to compliment it, not distract attention from it. 

The color palette of your cover photo should reflect your branding.

If you'd like to play safe, keep the same cover photos on all your social profiles.

Use high quality images on your cover photo.

Make sure you get the dimensions right when creating a cover photo for your company page. For LinkedIn company pages, optimum image sizes are,
LinkedIn company logo size: 300 x 300

LinkedIn banner / cover photo size: 1128 x 191
Best practises to try on LinkedIn in 2022 and beyond
In a sea of millions of LinkedIn users (all trying to score new opportunities), it's important to put your best foot forward and stand out. LinkedIn can be a little intimidating, but the first step towards success is starting. 
Create a profile, add connections, and start engaging.
And while you're doing that, keep the following tips and tricks in mind to get ahead of the competition.
Optimize your profile for SEO
There's a lot of talk about SEO in the digital world, especially where websites are concerned. But search engine optimization isn't just limited to blog pages and websites – it's also a big part of social media. 
On Linkedin, you optimize your profile or company page for SEO the same way you'd do it on a website – you incorporate the right keywords strategically in the right places. After-all, Linkedin has over 810 million members and it's very easy to get lost in the sea of LinkedIn users if you're not optimizing your profile. 
It's also very difficult for potential employers to search for you (even if you've got the potential to be the perfect employee for them!) if you're not optimizing your profile. 
According to US News, 95% of recruiters use LinkedIn to find job candidates and one of the most common ways of finding the right candidates for the job is through keyword search.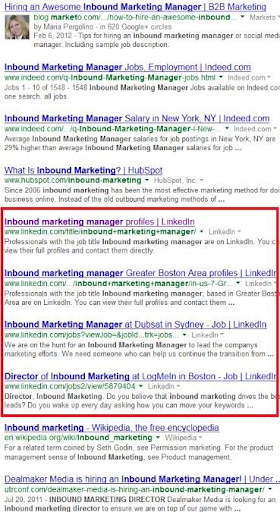 So how do you optimise it?
Step 1 – Finding the right keywords
There are a ton of softwares that can help you find the right keywords to incorporate in your LinkedIn profile, including,
Google Search Console/Keyword Planner

Moz Keyword Explorer

SEMRush
However, the easiest way to find keywords is by 'Googling it'.
Sounds simple, right? 
Just search for jobs similar to your target position and go through the job description. Highlight descriptive words that match your skill set and make a list of them. Filter out words that are too general – like detail oriented or excellent researcher.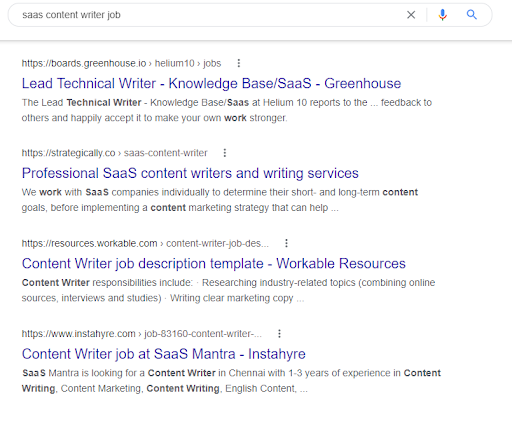 Similarly, if you're running a business and would like to optimize your profile to find more customers and clients, search for queries related to your industry and the solutions you offer. 
Step 2 – Weave keywords naturally in your profile 
Go crazy and use the keywords wherever you can – naturally, of course. Don't overstuff your content with keywords, nobody likes reading that. But wherever you can naturally insert a keyword, do it.
On your personal profiles, two main areas you want to pay special attention to with regards to keywords are the Summary and the Work Experience sections. 
And in the Company Page, use the About Page section to optimize your profile.
When working on your personal profile or company page tag-lines, make sure to make it keyword rich. Use the right titles that hiring managers use to find candidates in your niche, and for the company page outline the benefits of your service or product as best (and succinctly) as possible.
Step 3 – When adding media to your profile, use keywords in the description
When you're adding media links to your featured or experience sections, make sure you're naturally inserting keywords there, as well. 
Step 4 – Personalize your Linkedin URL
Linkedin allows you to create a custom Linkedin URL, so use that option and create one with your business name. This way, whenever someone searches for you on Google, your LinkedIn profile will pop up first. 
Step 5 – Don't forget to add your location too
Location is a very important part of optimizing your profile and company page, so don't miss out on that!
Experiment with a cover story video
Did you know you can add a video to your profile cover story?
We're in a video-first world and a video cover story can easily amp up your profile. It also has the power to set your profile apart from others and show recruiters and potential employers that you're serious about your work. 
Video is also a great way to convey a lot of important information – after all, there's only so much information you can convey with a static picture.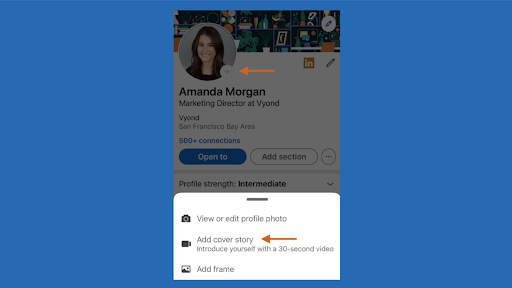 A cover story video basically exists in the same place as your profile picture. It's a 30 second  vertical video that helps you give out important information to viewers. 
There are several ways you can use this cover story video to your advantage.
Give recruiters a little something extra to choose you over other candidates:

Research shows that

3 people are hired through linkedin every minute,

it's a haven for job-seekers. Another research by LinkedIn showed that

76% of recruiters

believe it's helpful to see a pre-recorded video of a job seeker, so adding a video can greatly improve your chances of getting hired. 

Introduce your business:

While your company page is doing a great job at telling viewers all about your business, you can take this opportunity of recording a short video and explaining what your business is all about. It adds a human touch to your business. 

Highlight your expertise/product and services:

Treat it like a quick elevator pitch. 

Announce special news/job opportunities:

Since this cover story video is the first thing people will see when they land on your profile, it's a great idea to use this opportunity to announce any special news regarding your personal work life (like you're seeking new job opportunities, or just recently joined a new company) or your company. 

Or just add a fun boomerang of you:

LinkedIn is only as serious as we make it. If you'd like to simply add a little oomph to your profile and don't have time to record a proper video, you can always experiment with a fun boomerang of yourself. It instantly gives your profile an edge. Just make sure it's appropriate for a professional platform. 
Post regularly 
This may be the cliche-est advice ever, but it's true. Post regularly. 
Once you've formed connections with people in your industry. It's time to start playing the long game and posting regularly on LinkedIn. By regularly, I don't mean every day. Start off with as often as you're comfortable with. Is it once a week? Twice a week? Just do it religiously. 
While marketing on LinkedIn sounds boring, networking and marketing on LinkedIn is anything but that. From meme's to personal anecdotes (and everything in between), you'll find all kinds of content on LinkedIn.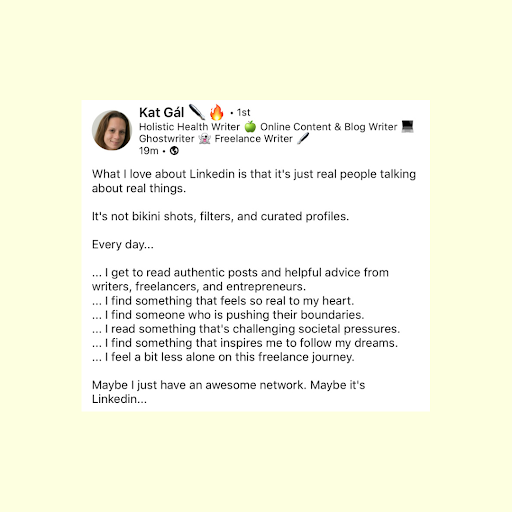 You'll find people posting pictures about their workcations, their remote work adventures, their morning coffee, and also very informative posts about their industry. There's a bit of everything on LinkedIn, but if you'll look closely you'll find out that everything is related to work. 
So even if you're posting about your family, an off day, or a meme you came across, make sure it ties back to your work in some way. 
And if you feel overwhelmed at the beginning, follow the classic 80/20 rule of social media posting. It basically states that 80% of your social media posts should inform, educate, and entertain your audience, while only 20% should promote your business or brag about your work.
So what kind of posts can you post on LinkedIn?
Create informative native videos
Native videos are videos that are uploaded directly to your personal profile or company page. They're not shared from other social channels. Native videos do really well on LinkedIn and prompt a lot of engagement. 
A short and sweet informative video can go a long way in establishing your authority in the industry. As a business owner, you can also publish short videos on your company page answering important FAQs.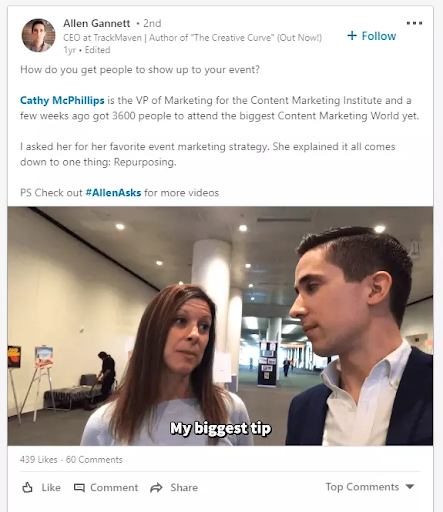 The best part?
They're easy to make – no need for fancy backgrounds or even written scripts. Even if you're out on a walk just open your phone camera and start recording a short video. 
People connect with personal stories. The best way to forge a connection with your new LinkedIn friends is by tying in your work with a personal story. 
It could be anything  – what made you get into this line of work? How do your friends and daily support you?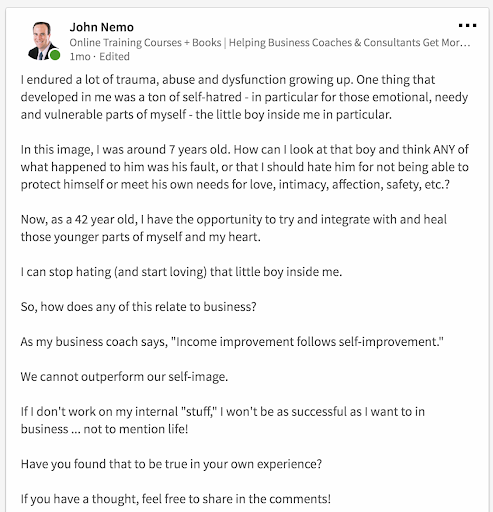 Polls are in general an excellent way to increase engagement on social media. 
Research shows that 33 percent of Gen Z respondents expressed a preference for articles that contain interactive features.
Not only do polls help in increasing your engagement, but also in collecting important data that can later be used for research purposes.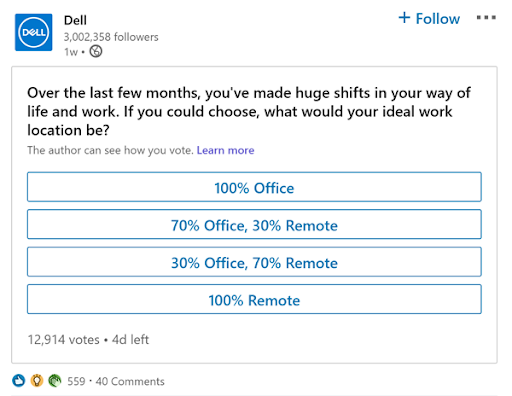 A few things to keep in mind when using polls,
Don't use them all the time. Everybody can see through people who use polls for just boosting engagement. Use it occasionally.

Ask important questions that people will want to answer. Avoid irrelevant questions like 'favorite color', and so on. Remember, at the end of the day, Linkedin is a professional social network so don't compromise your professionalism. 

Use polls to gather data on any new products or services you might be thinking of introducing. 
Regularly update your page
You've created your company page for a purpose, a goal. If you let it catch dust and don't update your page regularly, you're not going to achieve that goal. 
Updating your company page regularly is essential.
And the more engagement you get on your posts, the higher your reach. So you need to actively work on it to bring it in front of eyeballs. 
There are several ways you can do that.
Appoint different team members to take over your Company Page every week. They'll engage with connections, share interesting posts, and keep the page alive.

Share links to your blog posts with little snippets of the blog posts to drive people to your blog. 
Don't forget to include images or videos with all your posts. LinkedIn found out that images typically result in a 2x higher comment rate.
Share important news related to your business. Recently won an award? Received funding? Hired a new employee? Share it with your LinkedIn fam.

Don't be afraid to let down your hair. You don't always have to be serious and jargon-y on linkedIn, even if you're operating a LinkedIn company page. You can still post fun posts occasionally. Like Slack does.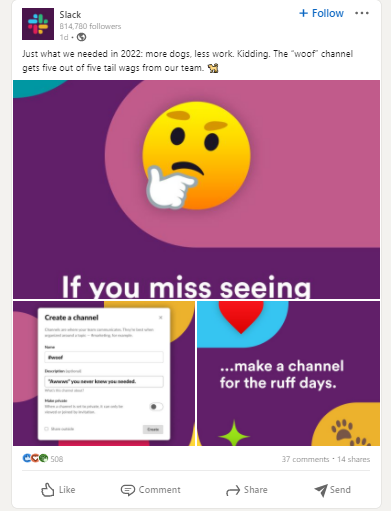 And in your captions, always try to ask questions. This increases engagement!
Engage with connections
You've added a ton of people on LinkedIn in your industry. Congratulations! Now it's time to engage with them. The more you engage with them, the more visibility you create for your profile. 
A few ways you can actively engage on LinkedIn,
Share posts by others and mention them. Start a conversation!

Share an article in your industry and mention the author, the content manager of that blog, and even the CEO of the company if you can! 

Write meaningful comments on others posts. Comments like 'Í agree' and Ýou're right', don't get you far. If you agree with what they've said, mention that point. If you don't agree, present your case respectfully. 

Comment on updates. Did someone announce they've joined a new company or spent xyz years at their present company? Congratulate them! 
Try to take out an hour or so every day to engage with your connections. 
Use direct message option for cold-outreach
Cold outreach is very common on LinkedIn. If you've been on linkedin for a while now, it's likely you've received a direct message similar to this from someone who you don't know at all.
This is a classic example of what you shouldn't do on LinkedIn.
It's salesy, impersonal, does not acknowledge what you do and how you can benefit from their services. And 8 out of 10 times, messages like these go unread (oftentimes, people will also end up blocking connections who send these messages!)
While you can send cold outreach messages to people you'd like to connect with, it's best to save your more elaborate cold messages for your connections – especially for people you've forged a relationship with. 
Cold outreach is an excellent way of introducing your services and businesses to connections, but before you start sending messages, keep the following things in mind.
Take out time to actually learn about the person you're sending the message to. Did they recently change their jobs or win an award? Congratulate them. Did they write a post that resonated with you? Mention that in the message. 

Make it short and sweet. I know it's tempting to list all the things you do, but your cold outreach message isn't the right place for that. Mention what you do and how you can help that person in a short paragraph. 

Add a call to action. What would you like them to do? Hop on a quick call with you? Learn more about your services? Whatever it is that you want them to do, mention it in the message.

Follow up but don't be clingy. Following up on cold messages gets results, but messaging every other day gets you blocked. 

Try engaging with them for at least a week or so before messaging them. And after messaging them, if you'd like to stay on their radar, keep engaging with their content. 
Invest in LinkedIn premium
LinkedIn Premium isn't cheap, I understand. 
But for seasoned professionals and people looking to boost their growth, it offers a plethora of benefits. 
While different pricing tiers on LinkedIn Premium offer different features, if you're looking to send InMail messages (direct messages to people who're not connected to you on LinkedIn), want to be notified of jobs in which you'd be a top applicant, and see how many searches you appeared in and how many people have viewed your profile in the last 90 days, you need to invest in it ASAP. 
The additional insight in who's searching for you and the option to send InMails are two features that can instantly boost your online growth. For job seekers too, LinkedIn premium can prove to be very beneficial. 
And lastly, getting the coveted LinkedIn Premium badge to display on your profile can be a great way to show potential employers, clients and customers that you're serious about LinkedIn. 
Conclusion
Whether you're looking for opportunities for professional networking, trying to grow your business, or simply searching for the right jobs, LinkedIn is the place to be at.
Everybody who's anybody is on LinkedIn. That's probably why 71% of B2B marketers use LinkedIn for their advertising strategies!
So if you haven't joined this platform, or are on this platform but haven't explored all it's features and taken advantage of the benefits it has to offer, now's the time to start!