The 2 Most Common SEO Mistakes Analyzed from 2000+ SEO Audits
At JEMSU, our digital marketing analyst team has the privilege of analyzing the results of dozens of SEO audits every day.  In total, we've reviewed the results of thousands of SEO audits.  The SEO audits are created by our instant SEO checker, which reviews 58 elements on your web page; separated into 14 sections to create an SEO score and report.  These 14 sections vary in SEO impact and importance.  Believe it or not, the number 1 most important SEO section in the SEO audit is also the section that contains the most mistakes or errors across the 2000+ SEO reports we've reviewed.  It's important to note that good SEO contains over 250+ ranking factors.  Even good SEO professionals will miss dozens of those factors on the websites they work on.  What's important is making sure the most important elements are not missed.
What is the first and most common SEO mistake?
Simple, it's content.  The copy analysis section of our instant SEO checker almost always yields the most negative check marks or errors out of all the 14 sections.  Less than 2% of SEO checks we receive get all good check marks in this section.   The copy analysis section reviews 6 SEO elements: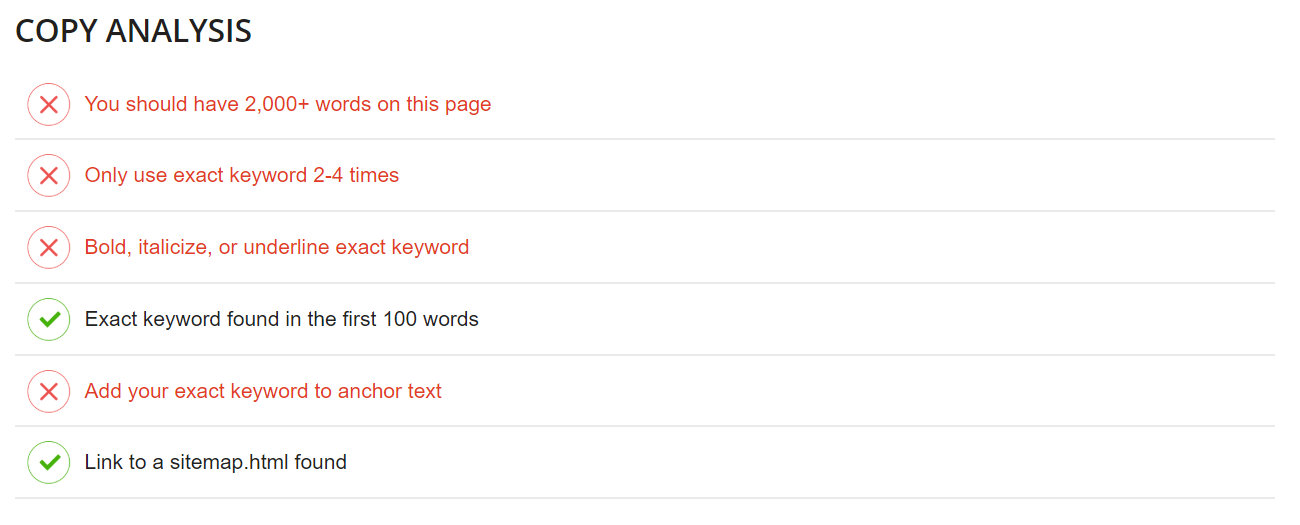 You Should have 2000+ words on this page
Only use exact keyword 2-4 times
Bold, italicize, or underline exact keyword
Exact keyword found in the first 100 words
Add your exact keyword to anchor text
Link to a sitemap.html found
Why is your content so important for SEO?
Great content engages and converts readers, keeps them on your website, and elicits social shares and organic backlinks.  The copy on each page is the primary indicator to Google and other search engines what your page is about and how to index it.  The more unique, quality content you have, the more opportunities you have to show up in search engines for a variety of queries.
Why do so many people make the common SEO mistake of under optimizing content? We believe there are several reasons:
Most people don't know that 2000 words of content on a page is considered the new SEO standard.
Writing 2000 words of content can be challenging for many pages on your website.  There are lots of content pages or topics that are nearly impossible to write 2000 words for.  Note: there are several pages on your website that do NOT need to contain 2000 words, like your "contact us" page and many more.
Many modern website designs and themes are much more image and graphic-heavy.   This can make it difficult to find areas within the design to write 2000 words of content.
Adding lots of text can make a beautiful image-focused design look odd and messy.
Most people don't know the proper density of keyword incorporation.  They are often too light or t0o heavy with density of their primary keyword.
Many writers don't think to bold, italicize or underline regular words within their content.  Emphasis is usually reserved for the heading tags H1-H6.
Incorporating your primary keywords naturally into your title tags, meta descriptions, and content can be challenging. This is especially difficult if you are making an effort to keep your copy as natural and flowing as possible without stuffing any keywords in just to reach certain density or prominence placement.
Internal linking is an important aspect of SEO but many writers forget to pick relevant, primary keywords as anchor text to link internally.
While many websites have an HTML sitemap, most are not included in a site-wide footer.
How to easily fix these common SEO content mistakes.
Remember that writing 2000+ words of quality, compelling content around your business' topics is a proven SEO tactic to help your content rank better in search engines.
Use accordions or other expandable HTML elements to make larger content sections fit within more restricted designs.  Google and other search engines read the content within expandable elements on your web pages.  This allows you to write more content without taking up large sections in your website design.
Writing content for the topics of your expertise should flow naturally.  Just make sure the most important keywords relating to your topic are not used with too much or little frequency.
Find a few important statements within your content to emphasize with bold, italicization or underline.  You'll find this type of emphasis draws the eye of readers and helps search engines identify those important sections within your content.
Make sure your primary keywords exist above the fold.  This will ensure your important keywords exist within the first 100 words of your content.  In addition, content summaries are a nice way to outline the content on your webpage, incorporate those important keywords and summarize the following content for both users and search engines.
Find relevant topics within your website to create keyword rich and anchor text drive internal links.  Its also a best practice to find additional relevant, credible outside sources to link to.
We always recommend creating both an XML sitemap and HTML Sitemap for your website.  Placing these sitemaps in your site-wide footer gives search engines access to every page on your website from all pages.   This creates easy crawlability for search engines and simple navigation for users.
What is the second most common SEO mistake? 
Optimizing images.  The image analysis section of our instant SEO checker usually receives the second most negative check marks of the 14 sections. The image analysis section reviews 5 SEO elements of your images.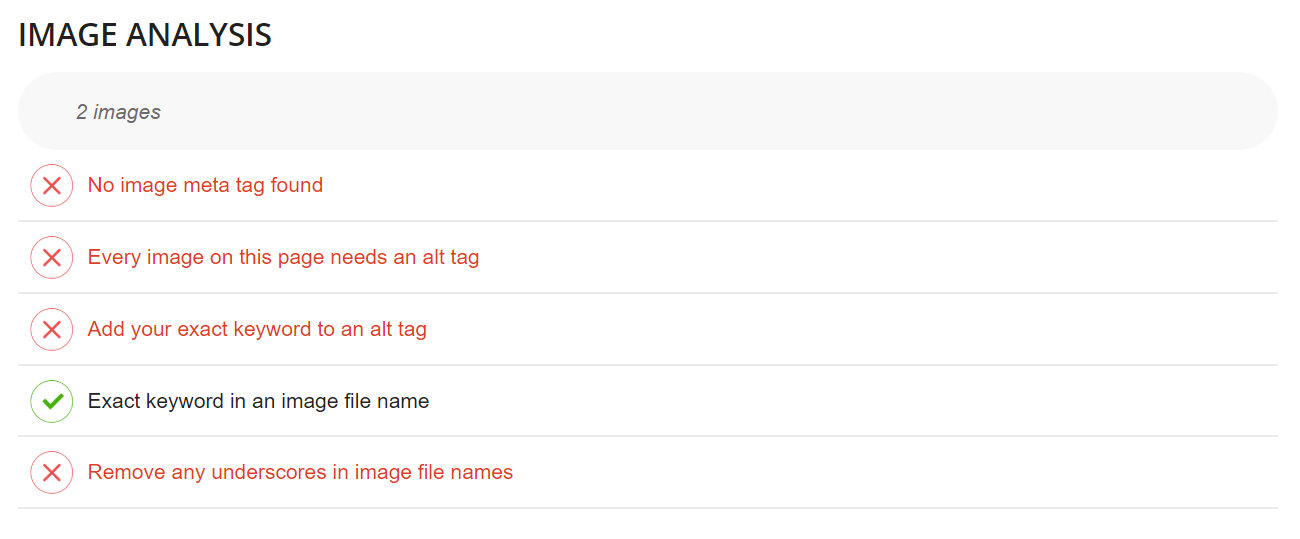 No image meta tag found
Every image on this page needs an alt tag
Add your exact keyword to an alt tag
Exact keyword in an image file name
Remove any underscores in image file names
Why is image optimization important?
Google and other search engines do NOT read images themselves, they read the data provide with images.  The key elements you can provide with each image for search engines to read are image titles, image ALT attributes and the image file names.
Why do so many people make the SEO mistake of under optimizing images? Again, there are several reasons:
Most people are not aware that a meta tag exists for images.
Adding ALT attributes to every single image can be tedious.
Many people don't know how or where to add ALT attributes to their images.
Adding your primary keyword to at least on ALT attribute is simple, the problem is most people simple don't add alt attributes, period.
Adding your primary keyword to an image file names is also very simple, however, most people don't do that when first building their websites, which makes the process of renaming and replacing images more tedious.
The same thing applies to properly naming image files and removing underscores.  Easy to do out of the gate, but more tedious to do if you are renaming and replacing images across your entire website.
How to easily fix the common SEO mistake of under optimizing images:
Put an OpenGraph image meta property on your pages
Get in the habit of adding ALT attributes every time you add an image to your website.  This saves you from having to go back and fix / add ALT attributes
Simply add your primary keyword to at least one image title and ALT attribute when you add new images to your website.
Name your files with relevant, descriptive keywords using dashes for separators vs underscores.
Here are a few additional tips and recommendations to improve your website's content and image optimization:
Remember, content is still king.  In our experience of managing SEO campaigns for hundreds of companies, we can validate that this statement still rings true.  We find that websites that produce great content frequently have better organic visibility and receive more organic visitors.
Use the proper image format for your various images:

Logos & Graphics should use SVG
Images with transparent backgrounds should use PNG
All other images should be JPEG
WebP is the newest, lightest and best format created by Google, however, not all web browsers support the WebP format.  We recommend using a plugin to create WebP versions of all your images that can be served up on browsers that recognize the WebP format.

Compress your images to save space with the Smush plugin.
Use word counter tools like Keywords Everywhere to help you analyze your word count and keyword density.
Use Yoast's SEO plugin to improve content readability.  Yoast's plugins looks at several elements to help you improve your contents readability.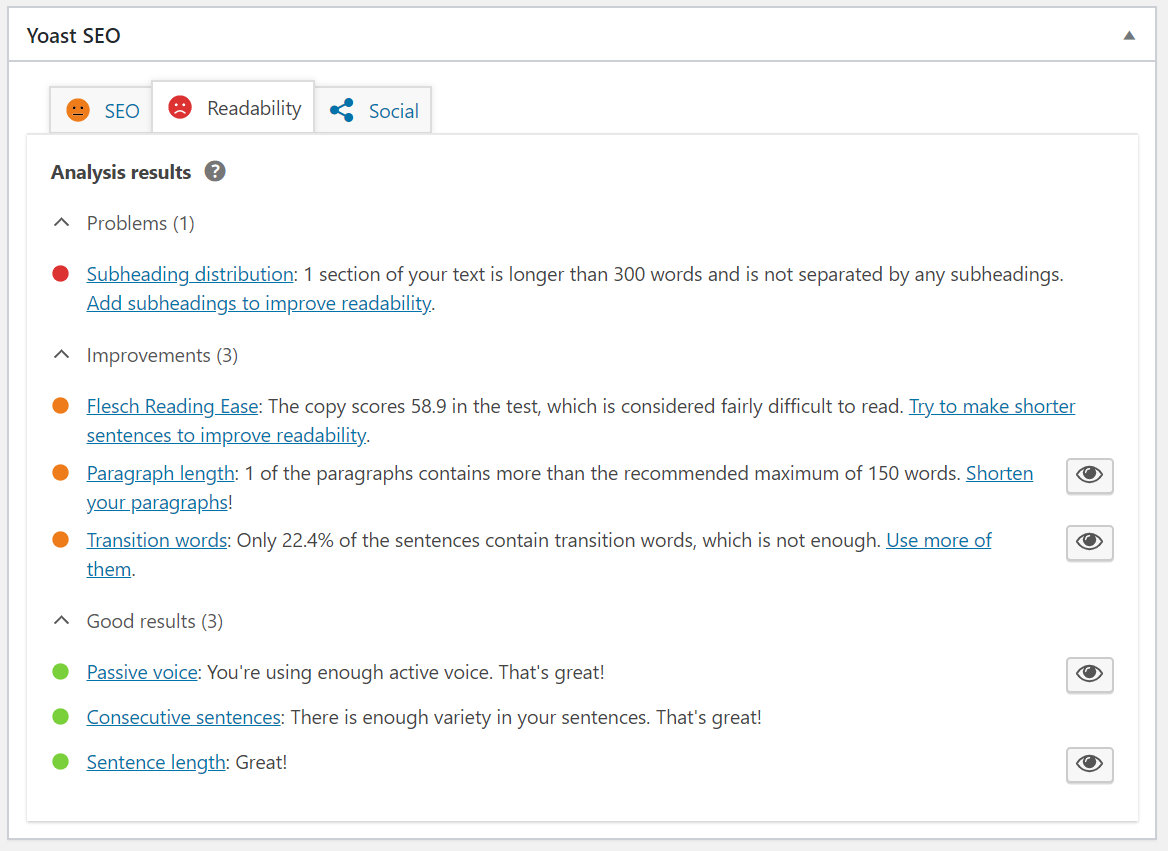 Here are a few of Yoast's suggestions to improve readability:
Subheadings – create headers for any section or paragraph of content greater than 300 words.
Flesch Reading Ease – creating content with a Flesch reading is of 60 or greater is recommended.
Paragraph length – Yoast recommend keeping your paragraphs under 150 words each.
Transition words – It is recommended that a majority of your sentences contain transitions words like "and", "but", "so" and "because".
Passive voice – Articles should be written using enough active voice.
Consecutive sentences – Using variety in your sentences is recommended.
Sentence length. – Make sure your sentence are too long or too short.
Summary
Content is one of the most important SEO elements on your website.
2000+ reviewed SEO audits show content is usually under-optimized.
Fixing the content issues on your website only requires a little knowledge and structure….but a lot of time to add, re-write or write new content for your website.
Content is still king.
Imagery is important in today's modern visual website design.
Google doesn't read images, Google reads the data provided with images.
Add keyword rich image data like titles and alt attributes to each image you add to you website, every time.
We've audited thousands of websites and continue to find actionable trends. Try these few tips to get started on your SEO!